Griffin Bay Bookstore Reopens After Two-Week Break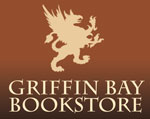 From Griffin Bay Bookstore
Griffin Bay Bookstore's doors are open!
We welcome you back to the bookstore after a two-week break with lighter hearts, our spirits buoyed by the many letters, notes, e-mails, and postings demonstrating your appreciation and thanks for what we do. Your kind words, your well-wishes were enlivening and encouraging as we started our break.
We were relaxed and able to enjoy quiet times in the store to tidy up, spruce up, and complete our inventory. Thank you all for your warm and supportive messages. While we were closed, staff members had the chance to be a part of the ABA's Virtual Winter Institute and were brought into contact with the resilience of America's independent bookstores—the many booksellers who remain undaunted in spite of the many challenges and economic fallout the pandemic has wrought.
This too buoyed us. It goes without saying that we all indulged in one of our favorite pastimes: reading and the luxury of reading to our heart's contents.
Griffin Bay Bookstore's regular hours for spring will continue to be 10 a.m.-4 p.m., Tuesday through Saturday. Our safety protocols will be maintained. As usual, there are many ways to shop: in the store, or by phone, e-mail, online on our website, Facebook or Instagram. We'll continue to offer curbside pick-up, deliveries, shipping to home or elsewhere. In short, our customer service will be the same as before our two-week closure.
We are certainly looking forward to the day when we can extend our open hours, increase our inventory, and return to "normal" operations. We are cautiously optimistic about the immediate future, excited to be making plans to enhance the bookstore when it's safe to do so. The ABA's Winter Institute inspired us; we've a storehouse of creative ideas for the future. It goes without saying that we'll be making changes gradually, all of them dependent on the trajectory of the pandemic. In other words, we'll be watching the pandemic's trends, and easing back into a new and enhanced bookstore.
In the meantime, we are happy to welcome you back to the bookstore. We are all eager to greet you, help you find what you're looking for, and pleased to show off newly arrived books—just-released fiction and nonfiction.