Griffin Bay Bookstore Reopens After Two-Week Break
Posted March 5, 2021 at 5:00 am by Hayley Day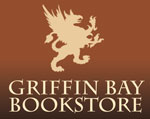 From Grif­fin Bay Bookstore
Grif­fin Bay Bookstore's doors are open!
We wel­come you back to the book­store after a two-week break with lighter hearts, our spir­its buoyed by the many let­ters, notes, e‑mails, and post­ings demon­strat­ing your appre­ci­a­tion and thanks for what we do. Your kind words, your well-wish­es were enliven­ing and encour­ag­ing as we start­ed our break.
We were relaxed and able to enjoy qui­et times in the store to tidy up, spruce up, and com­plete our inven­to­ry. Thank you all for your warm and sup­port­ive mes­sages. While we were closed, staff mem­bers had the chance to be a part of the ABA's Vir­tu­al Win­ter Insti­tute and were brought into con­tact with the resilience of America's inde­pen­dent bookstores—the many book­sellers who remain undaunt­ed in spite of the many chal­lenges and eco­nom­ic fall­out the pan­dem­ic has wrought.
This too buoyed us. It goes with­out say­ing that we all indulged in one of our favorite pas­times: read­ing and the lux­u­ry of read­ing to our heart's contents.
Grif­fin Bay Bookstore's reg­u­lar hours for spring will con­tin­ue to be 10 a.m.-4 p.m., Tues­day through Sat­ur­day. Our safe­ty pro­to­cols will be main­tained. As usu­al, there are many ways to shop: in the store, or by phone, e‑mail, online on our web­site, Face­book or Insta­gram. We'll con­tin­ue to offer curb­side pick-up, deliv­er­ies, ship­ping to home or else­where. In short, our cus­tomer ser­vice will be the same as before our two-week closure.
We are cer­tain­ly look­ing for­ward to the day when we can extend our open hours, increase our inven­to­ry, and return to "nor­mal" oper­a­tions. We are cau­tious­ly opti­mistic about the imme­di­ate future, excit­ed to be mak­ing plans to enhance the book­store when it's safe to do so. The ABA's Win­ter Insti­tute inspired us; we've a store­house of cre­ative ideas for the future. It goes with­out say­ing that we'll be mak­ing changes grad­u­al­ly, all of them depen­dent on the tra­jec­to­ry of the pan­dem­ic. In oth­er words, we'll be watch­ing the pandemic's trends, and eas­ing back into a new and enhanced bookstore.
In the mean­time, we are hap­py to wel­come you back to the book­store. We are all eager to greet you, help you find what you're look­ing for, and pleased to show off new­ly arrived books—just-released fic­tion and nonfiction.
You can support the San Juan Update by doing business with our loyal advertisers, and by making a one-time contribution or a recurring donation.