Pam Hutchins Retires From San Juan Public Hospital District
Posted March 28, 2021 at 5:00 am by Hayley Day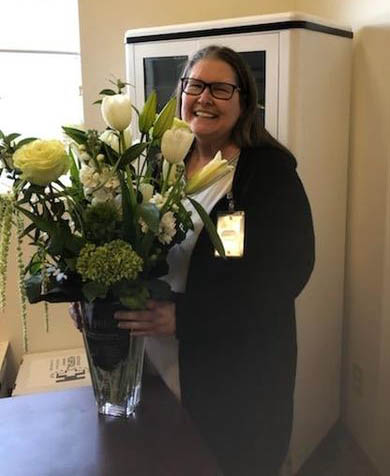 From San Juan Island EMS
The retire­ment announce­ment of Super­in­ten­dent Pamela Hutchins on March 25, marks the end of a crit­i­cal era for the San Juan Coun­ty Pub­lic Hos­pi­tal Dis­trict No. 1.
First hired in April 2005 as the finan­cial offi­cer for the old Inter Island Med­ical Cen­ter, she played a role there until it closed its doors on Thanks­giv­ing Day 2012, and Peace­Health Peace Island Med­ical Cen­ter opened its doors.
"The Wednes­day before Thanks­giv­ing 2012 the old med­ical cen­ter was ful­ly staffed," she recalled, "and the day after it was emp­ty – except for me."
Instead of going with the clin­ic staff, Hutchins was hired as the district's super­in­ten­dent. The hos­pi­tal dis­trict has two levies, one for San Juan Island EMS and one for the clin­ic ser­vices, the lat­ter levy becom­ing pri­mar­i­ly a sub­sidy pay­ment to PeaceHealth.
Hutchins stayed at the old med­ical cen­ter build­ing until EMS Chief Jim Cole invit­ed her to work from the sta­tion in 2013. She remained there until the hos­pi­tal dis­trict got its own offices again in March 2017.
"It was ener­giz­ing to be immersed in EMS," she said, "I have thor­ough­ly enjoyed it."
Dur­ing her time at the IIMC, Hutchins man­aged the finan­cial aspects of a Medicare demon­stra­tion project called the Fron­tier Extend­ed Stay Clin­ic as well as an HRSA Telepsy­chi­a­try Grant. This grant man­age­ment allowed the dis­trict to stay fis­cal­ly sol­vent until the new hos­pi­tal could be built.
The super­in­ten­dent at the time, Beth Williams-Gieger, said, "With­out Pam's account­ing exper­tise, my job as IIMC admin­is­tra­tor and dis­trict super­in­ten­dent would have been impos­si­ble to man­age. Pam's expe­ri­ence with fed­er­al and state grant man­age­ment will be sore­ly missed."
Part of get­ting Peace­Health to agree to the sub­sidy agree­ment that cur­rent­ly helps fund clin­ic ser­vices was mak­ing sure that $500,000 of IIMC debt was paid off. Hutchins had to help mon­i­tor and imple­ment fur­loughs and cut bills as low as pos­si­ble for more than a year. A par­al­lel effort suc­cess­ful­ly raised more than $10 mil­lion to fund the build­ing of the new hos­pi­tal, and the effort to bring Peace­Health was successful.
Dr. Michael Edwards, who was on the hos­pi­tal dis­trict Board for many years, added, "Dur­ing the design and con­struc­tion of the PIMC over near­ly sev­en years, Pam along with then-super­in­ten­dent Williams-Geiger and the hos­pi­tal dis­trict board made very dif­fi­cult and unpop­u­lar finan­cial deci­sions nec­es­sary to main­tain 24/7 med­ical ser­vices. Pam as the finan­cial offi­cer took much of the heat, but in the end, Pam was our sav­ior and cham­pi­on. We who lived it with her will be ever grateful."
The hos­pi­tal dis­trict is now work­ing on long-term care.
"I was glad I got to par­tic­i­pate in the first long-term care task force fol­low­ing the clo­sure of the Life Care Cen­ter," said Hutchins.
That effort has cul­mi­nat­ed in two large HRSA grants, and the dis­trict is work­ing with its part­ners on aging-in-place programs.
The board select­ed Nathan But­ler to replace Hutchins as superintendent.
He said, "I appre­ci­ate Pam's exam­ple of com­mit­ment to our com­mu­ni­ty and look for­ward to car­ry­ing her work forward."
Cur­rent Board chair Anna Lisa Lind­strum added, "Pam was present through many of the sig­nif­i­cant changes that have occurred in health­care in our island com­mu­ni­ty and the hos­pi­tal dis­trict is so grate­ful for all that she has accom­plished. We look for­ward to see­ing what she does next!"
You can support the San Juan Update by doing business with our loyal advertisers, and by making a one-time contribution or a recurring donation.