Quarter Of County Has Received First COVID-19 Vaccine Shot
Posted March 6, 2021 at 5:30 am by Hayley Day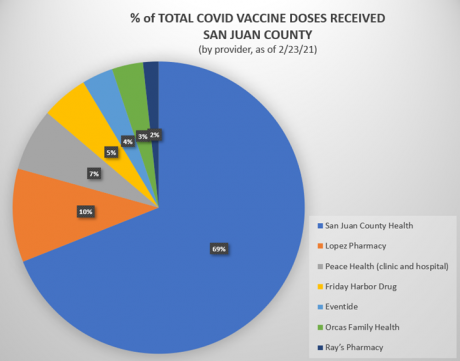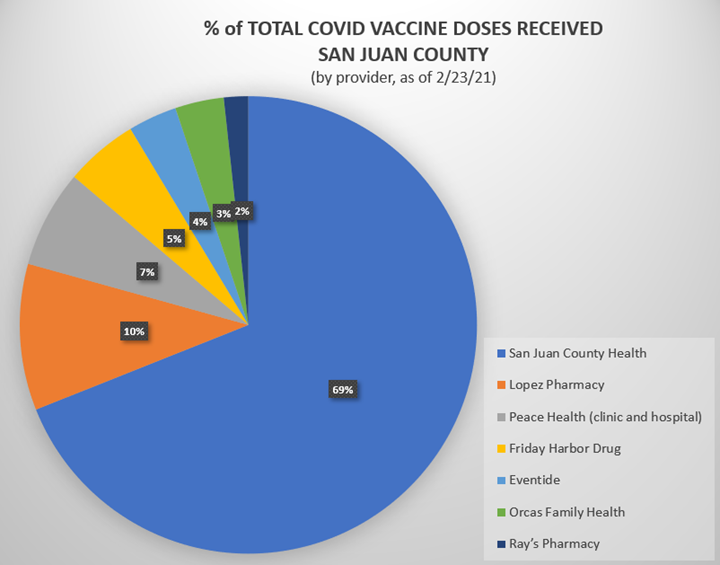 From San Juan County
As vac­cine dis­tri­b­u­tion efforts con­tin­ue, it is worth look­ing at what vac­cine has been received to date in San Juan County.
These num­bers are just a snap­shot. Please rec­og­nize that this is a con­stant­ly evolv­ing situation.
To date, sev­en vac­cine providers in San Juan Coun­ty have been approved to dis­trib­ute vac­cine and have received dos­es to admin­is­ter. These num­bers are as of Feb. 23 and may or may not reflect dos­es that have arrived or are being admin­is­tered this week.
Based on these num­bers, just shy of 25% of San Juan Coun­ty res­i­dents have received at least their first dose of vaccine.
All providers would eager­ly wel­come more vac­cine. The lim­i­ta­tion to providers receiv­ing and deliv­er­ing more vac­ci­na­tions is almost always lack of supply.
All providers play a crit­i­cal role, regard­less of vol­ume. Med­ical providers and phar­ma­cies offer a vital ser­vice in that they can reach out direct­ly to client and patients of theirs that they know are most at risk.
Over time, first dose and sec­ond dose num­bers will be equal. A sec­ond dose will be deliv­ered and admin­is­tered for all first doses.
These num­bers are con­stant­ly in flux. Use them for gen­er­al trends, but not for pin­point comparisons.
The Wash­ing­ton Depart­ment of Health has infor­ma­tion about vac­ci­na­tion deliv­ery rates per coun­ty on the COVID Data Dash­board. Click on the "Vac­ci­na­tions" tab for info. These num­bers usu­al­ly lag behind on the ground situation.
While the num­ber of dos­es admin­is­tered by each provider are not includ­ed in WA DOH report­ing, in gen­er­al providers should be admin­is­ter­ing dos­es with­in a week of receipt.
You can support the San Juan Update by doing business with our loyal advertisers, and by making a one-time contribution or a recurring donation.