Sun-E-Land Bikes Visits San Juan Islands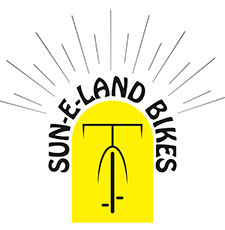 Coming soon to visit Friday Harbor, Lopez, Orcas…
Sun-E-Land Bikes is a new Electric Bicycle Company based in Bellingham, now open for business and will be coming to the San Juan Islands to feature and promote the Sun-E-Land City Cruiser.
Matt Holmes is the owner and operator of Sun-E-Land Bikes. Sun-E-Land Bikes offers affordable electric bicycles in the Pacific Northwest. Their featured product is the Sun-E-Land City Cruiser which is capable of 25 miles per charge. It has a 350 watt motor which is powerful enough to get riders over any hill. Conquer Mt. Constitution, no sweat! The City Cruiser comes with a full-year warranty at a price of only $699, or $1300 for a pair.
These bikes will be available for test-rides at Friday Harbor on April 5 from 10AM -Noon and on Lopez Island in the afternoon. On April 6, the bikes will be available for test-rides on Orcas Island. Sun-E-Land Bikes are perfect for everyday use, for rentals and for leisure. If you, your friends or business might benefit from a new form of transportation, please contact Matt to schedule a meeting time.
A little history and information about the company:
"I am excited to start Sun-E-Land Bikes as an affordable option for riders of all ages and abilities. Typical E-bikes are thousands of dollars which is too much for a novice rider or most working class individuals. Sun-E-Land Bikes offer a quality product that comes with a powerful motor and full-year warranty. We do not skip on quality in exchange for price. Our goal at Sun-E-Land Bikes is to increase the use of electric bikes for everyday commutes and leisure.
Our story starts in Bellingham when I got an E-bike for my dad who has knee problems. Walking was not always an option for him, so electric bikes got him outside and using his muscles again. Soon, he was riding all of the time for fun and rehabilitation. In no time, the arthritis in his knee was improving and he was feeling better than he had in years. This inspired me to explore a variety of e-bikes that were affordable for the everyday person and have quality components. We have found our product and purpose for starting the company which allows all ages of riders to get outside, reduce their emissions, purchase an affordable E-bike and have fun exercising." Matt Holmes
Sun-E-Land Bikes
360-223-9863
sunelandbikes@gmail.com
Sunelandbikes.com