Town To Construct Roundabout On Mullis Street
Posted March 13, 2021 at 5:30 am by Hayley Day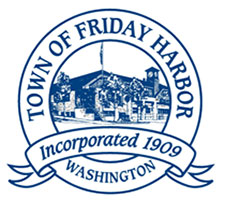 From Town of Fri­day Harbor
The Town of Fri­day Har­bor will add a round­about to part of Mullis Street from March 22 through May 28.
"Local access on Mullis Street from 818 Mullis Street to the Spring Street Inter­sec­tion will be impact­ed while con­trac­tors recon­struct the road and install a round­about," said Town of Fri­day Har­bor Admin­is­tra­tor Dun­can Wil­son. "We ask the local busi­ness­es and their patrons for patience as we work through this nec­es­sary disruption."
The project will recon­struct approx­i­mate­ly 1,300 lin­ear feet of Mullis Street from 818 Mullis Street, the Guard Elec­tric and Air­port prop­er­ty, to Spring Street.
This project includes a cement-treat­ed base, paving, ADA-com­pli­ant ramps and side­walk, curb and gut­ter, and a paint­ed round­about at Spring Street. Plans and spec­i­fi­ca­tions are avail­able at town hall for review.
The con­trac­tor, Kon­nerup Con­struc­tion, has been asked to expe­dite the project with as lit­tle traf­fic dis­rup­tion as pos­si­ble; how­ev­er, road clo­sures and detours will be unavoidable.
Trav­el­ers should expect delays and lim­it­ed or no access dur­ing cer­tain phas­es of the project. The pub­lic is asked to exer­cise patience and to make every effort to be respect­ful of sur­round­ings when using detours.
The con­trac­tor will begin mobi­liz­ing the week of March 22. Work is autho­rized 7 a.m.-7 p.m., Mon­day through Fri­day. Typ­i­cal­ly, work­ing hours will be a com­bi­na­tion of 4–10-hour work weeks with the excep­tion of April 5 through April 16. Work will be sub­stan­tial­ly com­plete by May 28 in a total of about 50 work­ing days.
North­bound and South­bound lanes will remain open ini­tial­ly. There will be times when the con­trac­tor needs use of both lanes and vehi­cles may expe­ri­ence up to 10-minute delays. Traf­fic will be divert­ed around the work or stopped entire­ly when necessary.
The South­bound lane will be closed for approx­i­mate­ly two weeks begin­ning April 5 when heavy road con­struc­tion takes place.
Lim­it­ed park­ing will be per­mit­ted and deter­mined on a day-to-day basis.
Local access will remain open at all times, how­ev­er, neigh­bors of the project should antic­i­pate short delays dur­ing cer­tain por­tions of con­struc­tion. Pedes­tri­an access will be maintained.
Flag­gers will be on-site as need­ed. The des­ig­nat­ed detour routes are Mar­ket Street and Argyle Avenue depend­ing on con­struc­tion tasks. The detour routes will remain in effect for the dura­tion of the project. The pub­lic is remind­ed that detour routes are con­sid­ered part of the project zone.
Plan alter­nate routes and park­ing to avoid delays. The town rec­om­mends that vehi­cles trav­el­ing to or from the south end of San Juan Island con­sid­er using Argyle Avenue or inter­sect­ing with Dou­glas Road to down­town to help ease con­ges­tion and wait times on Mullis Street.
Pedes­tri­ans and motorists should exer­cise com­mon sense and cau­tion. Be aware of equip­ment, con­struc­tion work­ers, trucks and con­struc­tion mate­ri­als. Make sure you are seen while mov­ing with­in the job site and abide by flag­ger instructions.
Infor­ma­tion and updates on the project will be post­ed online as often as pos­si­ble. Ques­tions for dai­ly oper­a­tions can be direct­ed to the con­trac­tor Justin Kon­nerup, Kon­nerup Con­struc­tion 425–508-0847, or project inspec­tor Pedro Mena at Town of Fri­day Har­bor at 360–378-2154.
You can support the San Juan Update by doing business with our loyal advertisers, and by making a one-time contribution or a recurring donation.