St. Patrick's Day Online Auction To Support Animals
Posted March 13, 2021 at 5:00 am by Hayley Day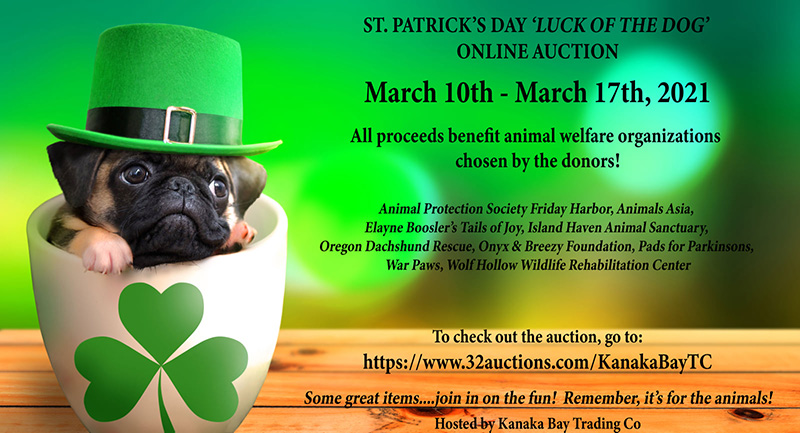 From Kana­ka Bay Trad­ing Company
This online auc­tion will be high­light­ing one-of-a-kind items that will be offered by artists, col­lec­tors, arti­sans and indi­vid­u­als who sup­port ani­mal wel­fare orga­ni­za­tions on San Juan Island and oth­er communities.
The auc­tion is open through St. Patrick­'s Day, March 17. View the auc­tion here.
The entire pro­ceeds from these items will ben­e­fit ani­mal wel­fare groups of the donors' choos­ing. If you want to help ani­mals in need, and love bid­ding on fun items, this auc­tion is for you!
Some of the ani­mal wel­fare orga­ni­za­tions that you will be help­ing out par­tic­i­pat­ing in this auc­tion are:
Ani­mal Pro­tec­tion Soci­ety — Fri­day Harbor
Ani­mals Asia
Cen­ter for Whale Research
Elayne Boosler's Tails of Joy
Island Haven Ani­mal Sanctuary
Old Dog Haven
Onyx & Breezy Foundation
Ore­gon Dachs­hund Rescue
Pads for Parkinson's
War Paws
Wolf Hol­low Wildlife Reha­bil­i­ta­tion Center
The Kana­ka Bay Trad­ing Co is the brain­child of sev­er­al San Juan Island women whose pas­sion for help­ing ani­mals in need over the past 2 decades has now car­ried some of them into their retire­ment years and con­tin­ues to be a dri­ving force that keeps these women's lives and those around them enriched and fulfilled.
Our goal is to offer qual­i­ty prod­ucts cre­at­ed by those in our com­mu­ni­ty and beyond, many of whom share the same pas­sion of ani­mal res­cue, reha­bil­i­ta­tion and wel­fare that we do. Many of our prod­ucts come from the inspi­ra­tion of liv­ing in the jew­el of the Pacif­ic NW….the San Juan Islands. This is an online busi­ness that has a por­tion of all its sales ben­e­fit ani­mal wel­fare orga­ni­za­tions. It also holds online auc­tions in which 100% of the pro­ceeds ben­e­fit the ani­mal wel­fare groups of the donors' choice.
Check out our web­site at www.kanakabay.com.
Bid­ding is now open. To add to the fun, each and every bid you make on any item, whether you win the item or not, puts your name into a draw­ing at the end of the auc­tion to win a donat­ed $100 Ama­zon gift card and we will be draw­ing three win­ners. Bid enough times and you could end up win­ning all three gift cards!
If you need help sign­ing up, just con­tact us at kanakabaytc@gmail.com. Have fun and thanks for sup­port­ing the ani­mals in need!
You can support the San Juan Update by doing business with our loyal advertisers, and by making a one-time contribution or a recurring donation.