St. Patrick's Day Online Auction To Support Animals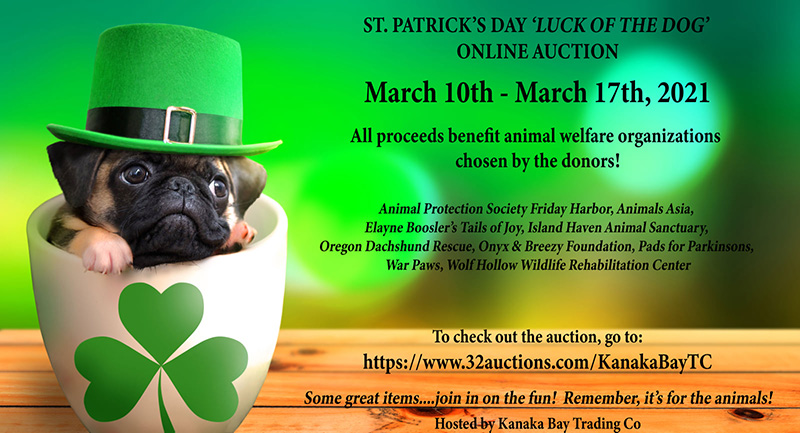 From Kanaka Bay Trading Company
This online auction will be highlighting one-of-a-kind items that will be offered by artists, collectors, artisans and individuals who support animal welfare organizations on San Juan Island and other communities.
The auction is open through St. Patrick's Day, March 17. View the auction here.
The entire proceeds from these items will benefit animal welfare groups of the donors' choosing. If you want to help animals in need, and love bidding on fun items, this auction is for you!
Some of the animal welfare organizations that you will be helping out participating in this auction are:
Animal Protection Society – Friday Harbor
Animals Asia
Center for Whale Research
Elayne Boosler's Tails of Joy
Island Haven Animal Sanctuary
Old Dog Haven
Onyx & Breezy Foundation
Oregon Dachshund Rescue
Pads for Parkinson's
War Paws
Wolf Hollow Wildlife Rehabilitation Center
The Kanaka Bay Trading Co is the brainchild of several San Juan Island women whose passion for helping animals in need over the past 2 decades has now carried some of them into their retirement years and continues to be a driving force that keeps these women's lives and those around them enriched and fulfilled.
Our goal is to offer quality products created by those in our community and beyond, many of whom share the same passion of animal rescue, rehabilitation and welfare that we do. Many of our products come from the inspiration of living in the jewel of the Pacific NW….the San Juan Islands. This is an online business that has a portion of all its sales benefit animal welfare organizations. It also holds online auctions in which 100% of the proceeds benefit the animal welfare groups of the donors' choice.
Check out our website at www.kanakabay.com.
Bidding is now open. To add to the fun, each and every bid you make on any item, whether you win the item or not, puts your name into a drawing at the end of the auction to win a donated $100 Amazon gift card and we will be drawing three winners. Bid enough times and you could end up winning all three gift cards!
If you need help signing up, just contact us at kanakabaytc@gmail.com. Have fun and thanks for supporting the animals in need!