OPALCO Discusses San Juans Solar Energy Online May 5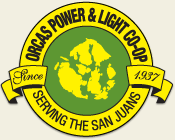 Attend and Enter to Win Electric Lawnmower, 10 Community Solar Shares
From OPALCO
OPALCO will host a solar town hall May 5 in the first of a series of co-op workshops that help members prepare their homes and businesses to transition from fossil fuels.
Orcas Power & Light Cooperative, or OPALCO, is the member-owned cooperative electric utility, serving more than 11,400 members on 20 islands in San Juan County.
OPALCO launched the Island Way campaign in early 2021 to help islanders determine their own energy future in the face of major changes in the energy world.
Island Way sessions are interactive, hour-long workshops.
The solar town hall will be held on Zoom.
Topics in the town hall include the 2021 OPALCO Community Solar project, residential solar and battery projects, commercial solar opportunites and an introduction to the upcoming board discussion of solar rates.
Industry experts from Puget Sound Solar and the Community Energy Challenge will join OPALCO staff to share information and answer questions. The hour-long session includes time for community discussion.
Those who attend could win two prizes: a Greenworks electric lawnmower or 10 shares of the 2021 Community Solar Project.
OPALCO members will enter to win with each Island Way session they attend, beginning with the OPALCO Annual Meeting held April 24.
The more sessions attended, the more entries in the raffle. The two winning names will be drawn on Oct. 1.
To register for the solar town hall, email communications@opalco.com.
Upcoming Island Way workshops:
5 p.m., May 27: The Island Way, virtual
5 p.m., June 1: Get the Most out of your Ductless Heat Pump, virtual
Noon, June 14: Switch It Up!, virtual
4:30 p.m., Aug. 5: EV Jamboree, OPALCO Eastsound parking lot
Noon, Aug. 26: How to use SmartHub, virtual
5 p.m., Sept. 20: Solar Town Hall, virtual
Find the full list of sessions at www.opalco.com/calendar.