OPALCO Discusses San Juans Solar Energy Online May 5
Posted April 23, 2021 at 5:00 am by Hayley Day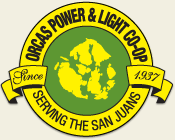 Attend and Enter to Win Electric Lawnmower, 10 Community Solar Shares
From OPALCO
OPALCO will host a solar town hall May 5 in the first of a series of co-op work­shops that help mem­bers pre­pare their homes and busi­ness­es to tran­si­tion from fos­sil fuels.
Orcas Pow­er & Light Coop­er­a­tive, or OPALCO, is the mem­ber-owned coop­er­a­tive elec­tric util­i­ty, serv­ing more than 11,400 mem­bers on 20 islands in San Juan County.
OPALCO launched the Island Way cam­paign in ear­ly 2021 to help islanders deter­mine their own ener­gy future in the face of major changes in the ener­gy world.
Island Way ses­sions are inter­ac­tive, hour-long workshops.
The solar town hall will be held on Zoom.
Top­ics in the town hall include the 2021 OPALCO Com­mu­ni­ty Solar project, res­i­den­tial solar and bat­tery projects, com­mer­cial solar oppor­tu­nites and an intro­duc­tion to the upcom­ing board dis­cus­sion of solar rates.
Indus­try experts from Puget Sound Solar and the Com­mu­ni­ty Ener­gy Chal­lenge will join OPALCO staff to share infor­ma­tion and answer ques­tions. The hour-long ses­sion includes time for com­mu­ni­ty discussion.
Those who attend could win two prizes: a Green­works elec­tric lawn­mow­er or 10 shares of the 2021 Com­mu­ni­ty Solar Project.
OPALCO mem­bers will enter to win with each Island Way ses­sion they attend, begin­ning with the OPALCO Annu­al Meet­ing held April 24.
The more ses­sions attend­ed, the more entries in the raf­fle. The two win­ning names will be drawn on Oct. 1.
To reg­is­ter for the solar town hall, email communications@opalco.com.
Upcom­ing Island Way workshops:
5 p.m., May 27: The Island Way, virtual
5 p.m., June 1: Get the Most out of your Duct­less Heat Pump, virtual
Noon, June 14: Switch It Up!, virtual
4:30 p.m., Aug. 5: EV Jam­boree, OPALCO East­sound park­ing lot
Noon, Aug. 26: How to use SmartHub, virtual
5 p.m., Sept. 20: Solar Town Hall, virtual
Find the full list of ses­sions at www.opalco.com/calendar.
You can support the San Juan Update by doing business with our loyal advertisers, and by making a one-time contribution or a recurring donation.