Join San Juan Preservation Trust Annual Meeting Online Thursday
By Angela Anderson, executive director, and Keith Wentworth, board president, San Juan Preservation Trust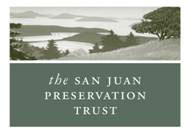 San Juan Preservation Trust's 42nd annual meeting will be held 5-6:15 p.m., Thursday, May 20.
We are excited to share our past year's accomplishments in pursuit of our mission to conserve island land, care for the land under our protection, and connect people to island land through outreach and education.
This virtual event will be hosted via Zoom Webinar.
If you have not registered yet, do so here.
Already registered? Look for a reminder email containing login information prior to the meeting.
Attendees will:
Review the past year's accomplishments
Announce results of this year's board of trustees election
Acknowledge VIPs and award recipients
Watch our featured presentation, "What's So Great About Garry Oaks?" followed by a Q&A
We look forward to seeing you online!