Join San Juan Preservation Trust Annual Meeting Online Thursday
Posted May 18, 2021 at 5:00 am by Hayley Day
By Angela Ander­son, exec­u­tive direc­tor, and Kei­th Went­worth, board pres­i­dent, San Juan Preser­va­tion Trust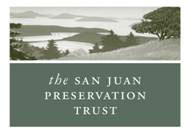 San Juan Preser­va­tion Trust's 42nd annu­al meet­ing will be held 5–6:15 p.m., Thurs­day, May 20.
We are excit­ed to share our past year's accom­plish­ments in pur­suit of our mis­sion to con­serve island land, care for the land under our pro­tec­tion, and con­nect peo­ple to island land through out­reach and education.
This vir­tu­al event will be host­ed via Zoom Webinar.
If you have not reg­is­tered yet, do so here.
Already reg­is­tered? Look for a reminder email con­tain­ing login infor­ma­tion pri­or to the meeting.
Atten­dees will:
Review the past year's accomplishments
Announce results of this year's board of trustees election
Acknowl­edge VIPs and award recipients
Watch our fea­tured pre­sen­ta­tion, "What's So Great About Gar­ry Oaks?" fol­lowed by a Q&A
We look for­ward to see­ing you online!
You can support the San Juan Update by doing business with our loyal advertisers, and by making a one-time contribution or a recurring donation.