OPALCO Presents Online Workshop to Shift from Fossil Fuels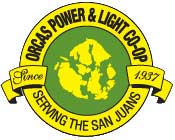 From OPALCO
Are you ready for the shift away from fossil fuels?
OPALCO's Island Way campaign is here to help co-op members prepare for the energy future that is coming fast.
The next virtual workshop is May 27.
Island Way events are interactive hour-long sessions designed to help members get the information and support they need to prepare for a sustainable energy future.
Check out OPALCO's podcasts series on each workshop.
In this upcoming Zoom event, we'll explain what's happening in our energy world and share the tools and resources that are available to help members start saving money now while preparing for a more affordable energy future.
David Griffin of Island eCars will be on board to talk about the EV Happy Deal, and we'll cover the Switch it Up on-bill financing program for efficiency upgrades like ductless heat pumps, heat pump water heaters, EV chargers and fiber to the home.
Learn about OPALCO's plans to use more renewable energy sources like solar and battery storage. The hour-long session will provide plenty of time for community discussion.
OPALCO is raffling off some great prizes to members who participate in these Island Way workshops: a Greenworks electric lawnmower and ten shares of the 2021 Community Solar Project.
OPALCO members will enter to win with each session they attend, beginning with the April 24 annual meeting. The more sessions attended, the more entries in the raffle! The two winning names will be drawn on Oct. 1.
To get the link for any of the Island Way workshops, email communications@opalco.com.
Upcoming Island Way workshops:
5 p.m., May 27: The Island Way, virtual
5 p.m., June 1: Get the Most out of your Ductless Heat Pump, virtual
Noon, June 14: Switch It Up!, virtual
4:30 p.m., Aug. 5: EV Jamboree, OPALCO Eastsound parking lot
Noon, Aug. 26: How to use SmartHub, virtual
5 p.m., Sept. 20: Solar Town Hall, virtual
Find the full list of sessions at www.opalco.com/calendar.
Orcas Power & Light Cooperative, or OPALCO, is our member-owned cooperative electric utility, serving more than 11,000 members on 20 islands in San Juan County.
OPALCO provides electricity that is 95% greenhouse-gas-free and is generated predominantly by hydroelectric plants.