Town of Friday Harbor Honors Finance Director Kelle' Wilson's Retirement after 28 Years
From the Town of Friday Harbor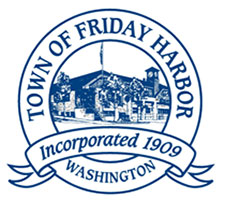 Town of Friday Harbor Finance Director Kelle' Wilson retired May 7 after 28 working in the town's finance department. The town council created a proclamation in honor of her last day.
Proclamation Ownering Kelle' Wilson Upon her Retirement
WHEREAS, Kelle' Wilson has distinguished herself as a hard-working and dedicated public servant. In good times and in difficult times she has dealt with a diverse range of people in and out of Town Hall and provided courteous and comprehensive help to members of the community, Town officials and staff; and
WHEREAS, Kelle' began a career at Town Hall when she was hired as a Data Processing Clerk in November of 1993. In March of 1998, Mayor Gary Boothman announced that she had been appointed to the position of Town Clerk. Later, in July of 2007, Treasurer Picinich recruited Kelle' to the position of Assistant Finance Director. In July of 2014, the Town Council announced her appointment to the position of Treasurer and succession to the position of Finance Director. The citizens of Friday Harbor have elected Kelle' to serve ever since; and
WHEREAS, due to her diligence and the knowledge she gained during those years, Kelle's understanding of past and present operations has made her an invaluable resource and advisor in watching over the Town's budget, assets and needs. Kelle' has demonstrated the highest standards of integrity and professionalism when applying her expertise and judgment to the policies and laws governing the Town of Friday Harbor; and
WHEREAS, six months and twenty-seven years later, Kelle' has announced her intention to retire from public service effective May 7, 2021;
NOW, THEREFORE, I, Farhad Ghatan, by virtue of the authority vested in me as Mayor, do hereby proclaim Friday, May 7, 2021 Kelle' Wilson Day.
On behalf of her fellow elected officials, coworkers and citizens of Friday Harbor, I offer congratulations on retirement and very best wishes to Kelle' and her husband Gene for many happy years ahead!
By this proclamation, I hereby memorialize that today, her last council meeting as elected Treasurer of the Town of Friday Harbor, will adjourn in her honor with respect and gratitude.