Freezer-burned: Tales of Interior Alaska
Posted June 20, 2021 at 5:00 am by Hayley Day
"Freez­er-Burned: Tales of Inte­ri­or Alas­ka" is a reg­u­lar col­umn on the San Juan Update writ­ten by Steve Ulvi.
The Allure of Gold, Part 1
A road-weary group of nine swayed in their bench seats down a nar­row trail, leafy tree branch­es scrap­ing the bulging, tarped roof rack and long rows of dirty win­dows. The 165-mile Tay­lor High­way into Eagle, the last leg of a try­ing jour­ney, had just about done them in with switch­backs, nar­row bridges and no guardrails on cliffs. But they had seen the two-sto­ry, rock pelt­ed buck­et dredge beside the road rest­ing for eter­ni­ty and min­ers goug­ing grav­els out of Jack Wade Creek for a water spew­ing wash plant by a mud­dy set­tling pond. Gold Country!
The two-track they fol­lowed after final­ly arriv­ing in Eagle, was a sug­ges­tion by a per­son they engaged in the busy gov­ern­ment camp­ground where they felt like the odd­i­ty they were. They crossed the grass airstrip past the old FAA house to drop down to end abrupt­ly at the river­bank at the old town boat land­ing. The small man at the big steer­ing wheel eased the bus for­ward in granny gear like he owned the place. He sighed deeply, relaxed his shoul­ders, then turned the key off to a wel­come silence.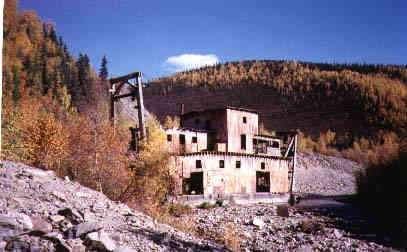 They all stepped out to the river­bank and stared as if the huge roil­ing riv­er might be a mirage. Hitch-hik­ing broth­ers, Bar­ney and Jake, wast­ed lit­tle time gath­er­ing up their tent and sleep­ing gear to find a flat spot. They rolled smokes and nipped at a flask look­ing out over the riv­er. Nei­ther one of them had ever found any use for chil­dren. No more long days cooped up with five of 'em! After a few min­utes, the Scog­gins fam­i­ly clam­bered back into the bus swat­ting bugs, hugged a bit longer than usu­al prais­ing the Lord, then shuf­fled to their bunks to sleep eas­i­ly, embraced by the Big Qui­et. The only noise was the peri­od­ic sound of blad­ders released into a plas­tic buck­et up near the driver's seat.
When they awoke ear­ly on their first Eagle morn­ing, sun already high, they could hard­ly believe the expanse of the famous Yukon Riv­er lap­ping a few feet away. It was a dream come true her­ald­ed by bois­ter­ous robins and oth­er bird trills they didn't know. Large woody debris, even entire trees sailed by with urgency. They were sur­prised to see big white gulls so far from the seashore. A place imag­ined, each in their own way, so many, many times.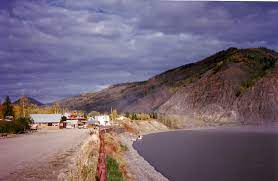 They scrounged up a camp­fire, arranged fold­ing chairs and began heat­ing water. The large white wood­en cross that stood high above them on Eagle Bluff just had to be a con­fir­ma­tion from the Lord. A slight upriv­er breeze rif­fled the near­by riv­er eddy and thinned the vora­cious mos­qui­tos. Their full-sized school bus with mud­dy Ida­ho plates was parked to pro­vide some shel­ter, some famil­iar­i­ty of scale, giv­en the vast, over­whelm­ing scene. The five look-alike kids took turns back­ing away, rub­bing their red­dened eyes as the pun­gent smoke swirled among them.
Their full-beard­ed father was seat­ed and smok­ing his pipe, grin­ning as each bowl-cut kid winced, faces con­tort­ed. He whit­tled some, then said, "Jacob, I told you that thar wood from that drift pile right thar ain't no good! Best for smokin' out bees and twon't nev­er hold a far". Point­ing his fold­ing knife to the poplar woods he direct­ed "Best you and yer sis­ter find us some dry stuff in thar. Bring 'er hatchet"!
Pap­py naive­ly believed that they would hard­ly be noticed by the busy inhab­i­tants of the pic­turesque lit­tle town on the eve of the Nation's Birth­day. Of course, the back­fir­ing, gear whine of the bus down the hill into the nosey lit­tle town back­lit by the end­less evening twi­light, had been noticed. Women were bak­ing pies for the upcom­ing fes­tiv­i­ties and fin­ish­ing up dirty pots and pans by open screened win­dows. Rumor-mon­ger­ing and cre­ative con­jec­ture were imme­di­ate­ly ignit­ed on the CB radio network.
Sturgill and Erline Scog­gins had planned this life-chang­ing jour­ney north for years, seek­ing guid­ance from the Lord Almighty fre­quent­ly and from topo­graph­i­cal maps or pub­lic infor­ma­tion occa­sion­al­ly. A cou­ple of years ear­li­er, "Pap­py" Scog­gins had paid 2 bits for a 1950s era book describ­ing plac­er min­ing in the wilds of Inte­ri­or Alas­ka along with a pock­et paper­back titled Call of the Wild. Over the ensu­ing months, they spent many an evening squint­ing and mark­ing inter­est­ing creek names and roads. Sturgill coughed often and wor­ried over the black lung dis­ease felling oth­er coal seam min­ers he knew.
Erline slow­ly read the tales of the Klondike Gold Rush era, her tongue fum­bling terms like 'cheechako' and 'mal de raque­tte', for a dog-tired Pap­py and kids before bed. They imag­ined that oth­ers would flock to the same end of 'their rain­bow' if they asked too many ques­tions or talked of their dream to any­one. The lure of rich, over­looked plac­er gold in the his­toric Eagle Min­ing Dis­trict out­side of the small town of the same name, grew to draw them from West Vir­ginia to a lengthy Ida­ho stop to work a month or two for wages.
After nego­ti­at­ing the wind­ing moun­tain high­way north through the Ida­ho pan­han­dle to a qui­et bor­der cross­ing in June, offi­cious Cana­di­an inspec­tors took a skep­ti­cal view of the bus and its sto­ic inhab­i­tants. They required a $250 cash deposit that would be returned once the Scog­gins' reached the Alas­ka bor­der weeks lat­er at Beaver Creek. Pap­py asked "what for, Surs" and one of them said "we don't want any more aban­doned, bro­ken down bus­es in Cana­da and peo­ple on pub­lic assis­tance". That sum was near­ly a quar­ter of the small bills they had stuffed into a cou­ple of tobac­co cans. The back­pack­ing broth­ers they met out­side a café and gas sta­tion back in McCall, Jack and Bar­ney, sneaked around the bor­der cross­ing through some woods that night to rejoin them in order to avoid issues with "non­sense records of mischief".
After a few days of a nar­row­ing, frost-heaved pave­ment, they made Daw­son Creek and the noto­ri­ous unpaved AlCan tra­vers­ing long stretch­es of forest­ed noth­ing. When pulled in for the night, mos­qui­tos tor­ment­ed them despite burn­ing "pics" in the bus. Tent­ing out, Jack and Bar­ney fared bet­ter. Chal­lenged by alter­nat­ing bil­low­ing dust and thun­der­storm mud and wash-outs the end­less for­est scenery slid by at a fair­ly steady 40 mph. On a lone­ly curve they had a stand-off with a dozen snort­ing Wood Bison. One bad washout required a chain tow by a provin­cial road work­er on a D‑8 cat that on first attempt ripped the heavy front bumper of the bus away.
Near­ly always the first local to con­tact new­com­ers in Eagle, Sarge waved as he squeezed his jacked-up Ford truck past the bus, down to his open river­boat gen­tly tug­ging at the shore­line. Two raga­muf­fin girls scowled from the front seat. After bal­ing some water from the stern, he rum­maged around his boat to buy time for infor­ma­tion gath­er­ing. He stepped out and reset the spring pole that held the boat off­shore as the water was drop­ping in the hot dry weath­er. His glances toward the bus missed nothing.
These lat­est immi­grants could not have known that they were about to meet "tele­phone, tele­graph or tell Sarge" as the friend­ly, self-appoint­ed town crier checked the line of small drift logs he was col­lect­ing for win­ter fire­wood at the head of the eddy. He saun­tered through the grass and hailed the fam­i­ly turn­ing to him while they spooned up mush at the fire. Some­thing told him that these folks would not appre­ci­ate even the most fam­i­ly-ori­ent­ed of his hun­dreds of mem­o­rized off-col­or jokes.
"Mornin'! Where you folks come in from?" Pap­py stood, tipped his flop­py hat back with a smile and replied "Idy­ho, but our roots is in the moun­tains of Vir­giny." Sarge was a fire hydrant of a man, his pic­nic ham arms were dec­o­rat­ed by Asian crouch­ing tiger tat­toos as he stopped out­side the ring of stumps. "Hi kids, whatcha eatin' there? The younger ones looked down at their shoes but the old­er girl said "Hot mush and chitlins" and all of their eyes widened when Sarge boast­ed "well we just fried up some fresh king salmon with sop­pin' toast", spread­ing his arms wide to indi­cate a leviathan.
"There's big doin's today in our 4th of July parade and games just up on the airstrip there. If you like to shoot, we got a trap shootin' con­test from the river­bank and a rifle con­test with a tar­get on the island there," point­ing toward Belle Island. "Anyone's wel­come, so come on up. Gonna be slow-roast­ed pig for the pic­nic, too! I got some guns you can use. Nev­er know but you might win a froze turkey".
"Thankee friend, we may just do that after our prayers and a sing fest. No need any­way to bor­row guns, 'pre­ci­ate it". Pap­py whit­tled on.
Sarge nod­ded, glanc­ing around. The hard-worn broth­ers, sit­ting apart, pret­ty much ignored him and leaned in, earnest­ly talk­ing in low tones. A short, aproned, curly-locked woman relaxed while sit­ting on the bot­tom step of the bus. She had a friend­ly, wry smile. A wood­en rock­er box, shov­els, picks and gold pans were piled neat­ly under the bus. A lot of it shiny new. A gal­va­nized tub of silty riv­er water sat soak­ing some clothes next to a scrub board. Card­board-cased musi­cal instru­ments sat on a fold­ing table with a Bible. He depart­ed with a smile say­ing "Well folks, wel­come to Eagle. If you'se need to char­ter a boat let me know" touch­ing his Sem­per Fi ball­cap, then grunt­ing up into his truck to rev into a 4‑part turn to slow­ly jounce past the bus and new­com­ers, scold­ing his yam­mer­ing girls for something.
The local pop­u­lace, includ­ing Han Atha­paskan vil­lagers from three miles away, con­verged at the flag fes­tooned parade stag­ing area on Main Street. Even a canoe of "hip­pies" who lived out on the riv­er, motored in to tie up beneath the intru­sive yel­low bus, spec­u­lat­ing as to its por­tent, as they walked up to town.
Mean­while, at the near­by his­toric Wick­er­sham Cour­t­house, a fran­tic last-minute search found the notes for a patri­ot­ic procla­ma­tion and rous­ing speech by the clos­et­ed gay may­or who stood on the wood­en porch framed by red, white and blue bunting tied to the dusty rail­ings. She did well until men­tion­ing that the Bureau of Land Man­age­ment (AKA Bad Lit­tle Men) had announced that it would be pro­tect­ing and restor­ing the few remain­ing Ft. Egbert build­ings at the edge of town. "Don't need 'em, don't want 'em"! and less print­able state­ments were heard rip­pling among the crowd.
When the clap­ping fad­ed old man Merkie, grow­ing weary of bal­anc­ing as Uncle Sam on very tall stilts, start­ed things off by lead­ing a few kids pulling red wag­ons fol­lowed by some shy native young­sters clothed in moose­hide and bead­ed regalia. A cou­ple rusty Mod­el T's, dri­ven by old-timers wav­ing, passed at glacial speed. A small chuff­ing trac­tor and then a mod­ern truck pulled bunting clad patri­ot­ic floats of sorts. The only two hors­es with­in a hun­dred miles, rid­den by Mike (look­ing like a heav­i­ly mus­tached Army scout of a bygone era), and his son, brought up the rear leav­ing fresh horse apples in the dusty road. The crowd of 125 peo­ple, most­ly local, lined the cen­tral block hoot­ing and clap­ping. It had hard­ly begun, then it was over. Enmi­ties and grudges were set aside for the day, even if sidearms were not.
Despite the best efforts of the fun­da­men­tal­ist Chris­tians in the dry town, some activ­i­ties as the day pro­gressed, were either spoiled or improved (depend­ing upon one's sense of fun) by alco­hol-fueled rev­el­ry. Although quite sober ear­li­er in the day, Junior Fed­der­man had fool­ish­ly shot a swan that hap­less­ly land­ed on Belle Island just after the tar­get match. Soon after two peo­ple rang up the State Troop­ers in Tok to report the infrac­tion using the only town phone in the old store.
Sarge won the hand-thrown clay pigeon shoot once again. The coed soft­ball game, most­ly bare-hand­ed, using t‑shirts for bases in a rough dia­mond, played out at the riv­er end of the grass airstrip. The rau­cous match had to be halt­ed sev­er­al times to allow small, sin­gle-engine planes to land or take off. One splut­ter­ing old T Craft used all the strip to get air­borne at the lip of the high bank over the riv­er, then dropped below view gain­ing speed, elic­it­ing more than a few gasps from the sun­burned ballplayers.
The sun seemed to sear from direct­ly over­head in a washed-out blue sky all day. Embold­ened by spir­its, sev­er­al burly men danced in an impromp­tu can-can line dressed in women's cloth­ing, wigs and red lip­stick, mas­sive­ly bosomed, to the delight of all except the scowl­ing, self-appoint­ed scions of the lit­tle town. At the edge of things, two adult broth­ers wres­tled and grunt­ed in the grass over some unin­tend­ed slight. The kid's saw­dust scram­ble was a great hit as good ol' Cas­to, nat­ti­ly dressed as always, had tossed in quite a few sil­ver dol­lars. Two teens had to be remon­strat­ed for try­ing to par­tic­i­pate. A gap-toothed kid ran to his dad beam­ing with one of the big coins, thus giv­ing up his lucra­tive place at the pile and any chance to increase his haul. Most of the kids bur­rowed with a deter­mi­na­tion that would have made a hun­gry bad­ger proud.
Lat­er, a vis­it­ing cou­ple was dis­qual­i­fied after it was revealed that they had sur­rep­ti­tious­ly used a squirt of diesel fuel to get their fire start­ed quick­ly in the seri­ous­ly com­pet­i­tive tea boil­ing com­pe­ti­tion. A rumor of "troop­ers in town" cir­cu­lat­ed and the boot­leg­ger skedad­dled to pro­tect his stock and tawdry reputation.
A kid who had been scroung­ing dis­card­ed C‑rations and cut hose line from the recent wild­fire crew demo­bi­liza­tion, ran up hol­ler­ing that there was a "brown bear" at the town dump. Sev­er­al nim­rods ran off to try to har­vest the mangy beast while it searched the slope of trash with­in a stone's throw of the parked yel­low bus.
The well-attend­ed com­mu­ni­ty potluck fol­lowed sev­er­al inju­ri­ous sand­lot vol­ley­ball match­es. The tra­di­tion­al pic­nic was to be gas­tro­nom­i­cal­ly ele­vat­ed by a much-adver­tised pit-cooked pig. How­ev­er, the tip­pling "pit mas­ters" dug up the pig ear­ly. The half-cooked, greasy car­cass with a lit­tle dirt on it had to be cut up on a tarp and bar­be­qued amid joc­u­lar advice. Even worse, the local­ly raised hog had been "fin­ished" not on corn, but dried salmon before death and tast­ed fishy. This was a great dis­ap­point­ment for those who remained sober enough to know the dif­fer­ence. The onsite EMS gal nev­er did have to employ a stom­ach pump, although she dear­ly want­ed to.
Pap­py and his stand-off­ish fam­i­ly clus­tered around a pic­nic table on the edge of activ­i­ties strum­ming instru­ments while singing old-timey moun­tain bal­lads and hymns. Erline was the heart of things vig­or­ous­ly strum­ming her large auto­harp. An old­er native guy joined in with his gui­tar know­ing some of the tunes that had been played for many decades at all-night dances when stern­wheel­ers overnight­ed. The old­er daugh­ter could real­ly saw on a fid­dle. Some kind­ly folks took paper plates of food and store-bought unripe fruit over to their table. The kids were fresh­ly scrubbed, at least their hands and faces, bare­foot and stunned by the ludi­crous can-can danc­ing scene.
Over the next cou­ple of days, vis­i­tors left and the lit­tle town qui­et­ed again. Pap­py, accom­pa­nied by Jack and Bar­ney, splashed across Mis­sion Creek to take a first-hand look at the his­toric Sev­en­ty Mile Trail that led out to dis­tant gold claims. On that wind­less, humid morn­ing the mos­qui­tos pounced. Pap­py had thought of the "trail" as a nar­row dirt road like those so famil­iar in the Appalachi­ans. He knew noth­ing of permafrost.
Pappy's grand plan all along, care­ful­ly guard­ed, had been to dri­ve the bus out there with­out fan­fare and set­tle in for a sum­mer of find­ing gold where many oth­ers had failed. Only a mile out with twen­ty to go, they learned the hard truths of an 'Alas­ka Win­ter Trail' through sum­mer creek cross­ings, steep cut banks, muskeg and per­mafrost flats that would quick­ly mire any mech­a­nized vehicle.
It was a rev­e­la­tion, locals would say "a dope slap", for Pap­py who in extrem­is, again sought the benev­o­lent guid­ance of the Lord while they rent­ed an old cab­in in town and played music on the sag­ging porch. Erline seemed hap­py. At least she laughed enough that you could see she had but two front teeth. The kids made some friends. Jack and Bar­ney up and left town in a pick­up belong­ing to the town drunk in the wee hours one morn­ing after the rumor spread that one of them was a want­ed man in Ida­ho for bank rob­bery. The shady broth­ers found and abscond­ed with some of Erline and Pappy's cash, a case of Din­ty Moore beef stew and a few jugs of gasoline.
Then Pap­py, in a heady mix of coun­try can-do, gold fever and divine guid­ance arrived at a new plan. He announced that they would cut the top off of the bus, turn it over to make a boat hull of sorts, install the engine with a shaft and big prop, mount sweeps for steer­ing, load up the kit and kaboo­dle and motor down the wide riv­er, a hun­dred miles or so, to find a place to chip off some chunks of the Moth­er Lode.
You can support the San Juan Update by doing business with our loyal advertisers, and by making a one-time contribution or a recurring donation.