Island Senior: Watch Out For Scams!
Posted June 20, 2021 at 5:30 am by Peggy Sue McRae
"Island Senior" is a reg­u­lar col­umn on the San Juan Update writ­ten by Peg­gy Sue McRae.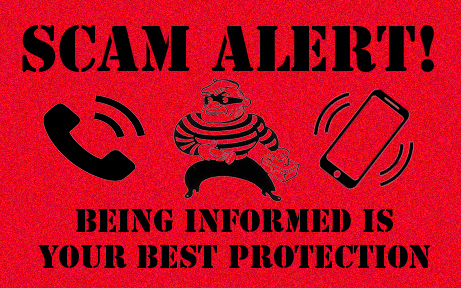 WC Fields once said, "Nev­er give a suck­er an even break" and there are legions of scoundrels out there oper­at­ing on that very premise. Just this morn­ing in my email I had a puz­zling notice regard­ing an $800 gift card sup­pos­ed­ly pur­chased through my Pay Pal account.
Besides the fact that I have not pur­chased a gift card anoth­er fishy aspect of the email was that the gram­mar was slight­ly off, as if the author was not a native speak­er of the Eng­lish lan­guage. I delet­ed the email, checked my Pay Pal account to make sure there were no $800 gift card pur­chas­es, and changed my password.
This like­ly scam was pret­ty easy to spot and it was easy to take a few sim­ple pre­cau­tions. Avoid reply­ing direct­ly to sus­pi­cious or alarm­ing news regard­ing your own accounts. If you receive some­thing sus­pi­cious go direct­ly to your account and check it out. It also nev­er hurts to change your pass­word. Unfor­tu­nate­ly, scams are not always so easy to detect.
There is a com­mon phone scam where you are told you owe back tax­es and could be in trou­ble with the law if you do not pay up. These scam­mers, accord­ing to the IRS, are "demand­ing and threat­en­ing – and do not reflect how the IRS han­dles enforce­ment mat­ters." (Please see link below for tips from the IRS)
Scam­mers tar­get seniors and one of the most nefar­i­ous scams involves using grand­chil­dren to extract mon­ey from car­ing grand­par­ents. The scam­mer will get the grandchild's name and then call with a fake emer­gency of some sort ask­ing for mon­ey. If some­one claims to be a close friend of your grand­child stay calm and ask questions.
The Senior Mon­ey Project, CENTS (Con­sumer Edu­ca­tion and Train­ing Ser­vices) has free resources cre­at­ed to help seniors avoid com­mon scams. Once the Mullis Cen­ter reopens look for a pre­sen­ta­tion. Mean­while, due to Covid the mate­r­i­al is being offered in the form of a Pow­er­Point pre­sen­ta­tion or slide show and is avail­able online.
Arm­ing your­self with infor­ma­tion is your best protection.
Links
You can support the San Juan Update by doing business with our loyal advertisers, and by making a one-time contribution or a recurring donation.