Island Senior: Watch Out For Scams!
"Island Senior" is a regular column on the San Juan Update written by Peggy Sue McRae.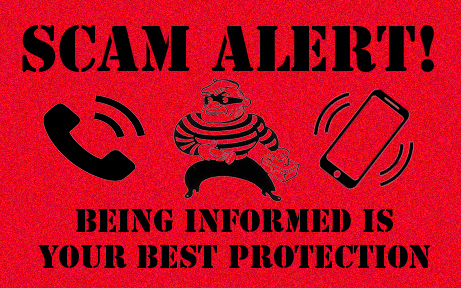 WC Fields once said, "Never give a sucker an even break" and there are legions of scoundrels out there operating on that very premise. Just this morning in my email I had a puzzling notice regarding an $800 gift card supposedly purchased through my Pay Pal account.
Besides the fact that I have not purchased a gift card another fishy aspect of the email was that the grammar was slightly off, as if the author was not a native speaker of the English language. I deleted the email, checked my Pay Pal account to make sure there were no $800 gift card purchases, and changed my password.
This likely scam was pretty easy to spot and it was easy to take a few simple precautions. Avoid replying directly to suspicious or alarming news regarding your own accounts. If you receive something suspicious go directly to your account and check it out. It also never hurts to change your password. Unfortunately, scams are not always so easy to detect.
There is a common phone scam where you are told you owe back taxes and could be in trouble with the law if you do not pay up. These scammers, according to the IRS, are "demanding and threatening – and do not reflect how the IRS handles enforcement matters." (Please see link below for tips from the IRS)
Scammers target seniors and one of the most nefarious scams involves using grandchildren to extract money from caring grandparents. The scammer will get the grandchild's name and then call with a fake emergency of some sort asking for money. If someone claims to be a close friend of your grandchild stay calm and ask questions.
The Senior Money Project, CENTS (Consumer Education and Training Services) has free resources created to help seniors avoid common scams. Once the Mullis Center reopens look for a presentation. Meanwhile, due to Covid the material is being offered in the form of a PowerPoint presentation or slide show and is available online.
Arming yourself with information is your best protection.
Links