Roche Harbor Neighborhood Association Launches Emergency Preparedness Project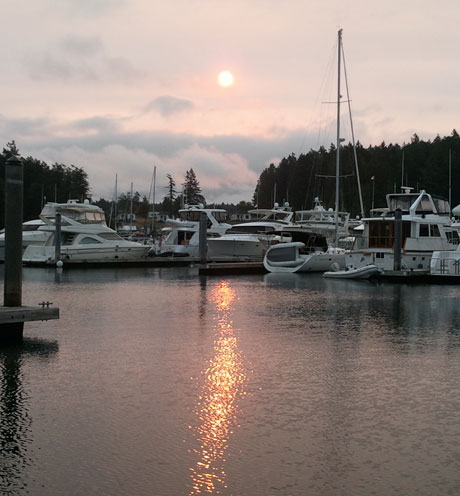 Sunrise over Roche Harbor by Kevin Holmes
From the Roche Harbor Neighborhood Association
The Roche Harbor Neighborhood Association, a charity serving northern San Juan Island, is expanding its traditional programs to help residents prepare for emergencies.
The project launched June 1 and runs through December 2021.
Natural disasters – earthquakes, wildfires, tsunamis, pandemics, winter storms – will hit the Roche Harbor area, but no one knows when. San Juan Island residents must be prepared to survive with limited help for weeks.
The association will inventory area residents' needs and resources to identify and fill gaps in emergency preparedness; distribute clear and helpful information to help residents prepare for emergencies; and train, motivate and support residents' preparations.
San Juan County has a 200-page Comprehensive Emergency Management Plan, relying on organizations like the Roche Harbor association to help in disaster response.
The project will help the county in the areas around Roche Harbor.
The project builds on existing efforts such as San Juan County's Emergency Management website at IslandsReady.org while tailoring the emergency preparedness methods to needs in the Roche Harbor area.
The association has worked with the San Juan County Department of Emergency Management, the Roche Harbor Resort, San Juan Island Fire & Rescue, and other organizations in preparing for this project.
The association's project is directed by San Juan Island resident Dr. Susan Martin, Donald G. Herzberg Professor Emerita at Georgetown University, where she founded and directed the certificate program on refugees and humanitarian emergencies. She is also vice-president of the Roche association, on the advisory board of the Center for Disaster Philanthropy and advisor to U.S. government agencies and state emergency management offices on disaster response.
Dr. Yasmin von Dassow, a freelance editor and grant writer on San Juan Island, a marine biologist and a volunteer with the San Juan Island fire department, will staff the project as an individual, and not in any way representing San Juan Island Fire or any other organization.
For more information on the project, see rocheharborna.wordpress.com.