Friday Harbor Labs Director asks Islanders, Tourists to Protect False Bay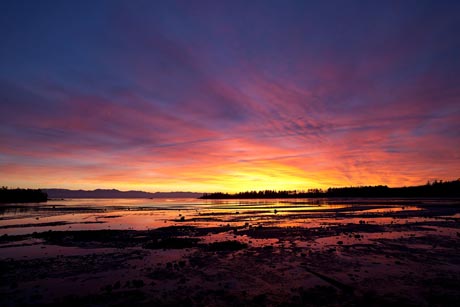 False Bay on New Year's at sunset. Steve Martin, Contributed.
Keep Dogs on Leashes
By Dr. Megan Dethier, Director, Friday Harbor Labs
About a year ago, we wrote about increased use of University of Washington properties during the governor's stay-at-home orders.
This heavy use has continued, and now with summer upon us and relaxed covid regulations, we are seeing extraordinary numbers of people at our False Bay preserve — especially on hot days.
We welcome members of the public to explore and appreciate the bay: dogs on leashes, people in kayaks, and those just wading in the cool waters are relatively harmless to the preserve's resources.
However, dogs off leashes — chasing birds or digging in the sand — are a problem, and their presence may force us to restrict access to the area.
False Bay is a special place: the size of it, its diversity of habitats, and the extreme variation it experiences on a daily basis due to tides result in unique communities of organisms.
As a steward of the bay, the university is dedicated to preserving this exceptional habitat. In the past year, we have begun working with county, state, and local organizations to improve conditions in the bay's watershed, studying key aspects of the quality and quantity of the waters of False Bay Creek — the health of which are essential to the health of the bay into which they drain.
Under the deed for the bay (as for other UW-owned properties in the county), the university has the right to limit public access and forbid pets in order to minimize disturbance to shorebirds, marine mammals, the sediments, and organisms living in the sediments.
While we prohibit pets on most of the UW acreage, we decided last year to test a policy that allowed dogs on leashes in False Bay, posting a sign to that effect. However, we find now that tourists and islanders alike are regularly letting their dogs run loose in the bay. During our "heat dome" weekend, the tide flats looked like a dog park, with some visitors responding with hostility to neighbors who attempted to enforce our posted rules.
This is one more plea to islanders who love access to this special place: if you come with a dog, keep it under tight control.
If you see others letting their dogs loose, please help us by politely pointing out the leash policy.
And while you're at it, if you see people with shovels and buckets, ask if they are research scientists. If they aren't, gently remind them that digging is not allowed in the preserve except for research purposes. If they are scientists, they will appreciate the care you show by asking!
We do not want to put up fences and exclude the public from the bay but might have to take this step if that is what is needed to carry out our responsibility to the health and future of this place.