Letter | Becki Day Deserves Fourth of July Credit
Posted July 16, 2021 at 5:00 am by Hayley Day
By Lau­ren Cohen, San Juan Island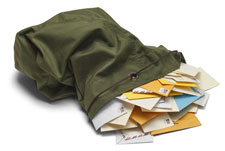 The return of our town's beloved Fourth of July parade was an enor­mous step for­ward in our return to nor­mal life.
It was a chance for our com­mu­ni­ty and the vis­i­tors we wel­come every year to come togeth­er and cel­e­brate our nation and the free­doms we enjoy.
The San Juan Jour­nal arti­cle cel­e­brat­ing this event was nice but remiss in rec­og­niz­ing the most impor­tant per­son respon­si­ble, for not only the parade, but the fire­works we have all come to love on our nation's birth­day: Bec­ki Day.
Bec­ki is the exec­u­tive direc­tor of the San Juan Island Cham­ber of Commerce.
Though she had the help of her board of direc­tors, faith­ful vol­un­teers and even­tu­al­ly the town, Bec­ki is the one and only indi­vid­ual that every sin­gle islander and vis­i­tor should be thank­ing. Once the town decid­ed that they would issue a per­mit, it was Bec­ki that pulled a parade togeth­er in lit­tle more than two weeks.
Spec­ta­tors do not real­ly think about what that takes but it was an enor­mous labor of love and ded­i­ca­tion on her part. She worked tire­less­ly to round up parade entrants and with the help of a frac­tion of her nor­mal vol­un­teer core, she gave the town of Fri­day Har­bor this gift.
Every­one who enjoyed the parade owes Bec­ki Day an enor­mous and pub­lic debt of grat­i­tude espe­cial­ly after this mis­guid­ed Jour­nal arti­cle that seems to give gov­ern­ment bureau­crats cred­it for the hard work of a great leader in our busi­ness community.
Every sin­gle res­i­dent and vis­i­tor on San Juan Island should stop by the Cham­ber of Com­merce office and say thank you to Bec­ki Day for her ded­i­ca­tion to tra­di­tion and cel­e­bra­tion in our won­der­ful town.
You can support the San Juan Update by doing business with our loyal advertisers, and by making a one-time contribution or a recurring donation.