A New Digital Scanner for the Historical Museum
Posted August 17, 2021 at 5:36 am by Tim Dustrude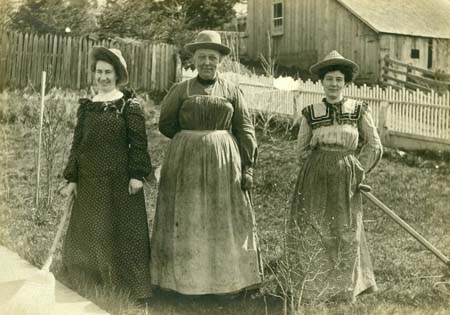 The mis­sion of the San Juan His­tor­i­cal Soci­ety and Muse­um for the past 60 years has been to share and inter­pret the sto­ry of the peo­ples of San Juan Island. One way of doing that is through preser­va­tion of his­tor­i­cal pho­tographs of the island com­mu­ni­ty. In recent years over 4,000 pho­tographs have been researched, dig­i­tal­ly scanned and cat­a­loged into the Museum's archive col­lec­tion which con­tains over 6,000 images and is growing.
The work is being done by ded­i­cat­ed vol­un­teers using 13-year-old equip­ment that is reach­ing the end of its long life and parts are no longer avail­able. To rem­e­dy this, we look to pur­chase a pro­fes­sion­al qual­i­ty, large for­mat dig­i­tal scan­ner. The new equip­ment offers numer­ous ben­e­fits such as tech­no­log­i­cal advance­ments and the abil­i­ty to scan larg­er images than cur­rent­ly possible.
Begin­ning August 18 through August 22, dur­ing the Vir­tu­al San Juan Coun­ty Fair, the San Juan Island Com­mu­ni­ty Foun­da­tion has pledged to match up to the first $1,000 giv­en to the San Juan His­tor­i­cal Soci­ety and Muse­um to pur­chase the scan­ner. This is part of the Com­mu­ni­ty Foundation's Fair Match­ing Grant Pro­gram. Addi­tion­al bonus grants will be avail­able each day through the Com­mu­ni­ty Foundation's Face­book page.
You can make a finan­cial con­tri­bu­tion and help us reach our fundrais­ing goal by vis­it­ing the Com­mu­ni­ty Foundation's web­site at www.sjicf.org begin­ning August 18. Once there, select San Juan His­tor­i­cal Soci­ety from the fund-rais­ing cat­a­log that will be fea­tured between the 18th and 22nd.
If you pre­fer, you can also mail a check payable to SJICF, PO Box 1352, Fri­day Har­bor, WA 98250. Just be sure to write "SJ His­tor­i­cal Soci­ety" in the memo field and mail your check between the dates of August 18 and 22.
You can support the San Juan Update by doing business with our loyal advertisers, and by making a one-time contribution or a recurring donation.