Art for Fun
Enjoyment Guaranteed at Art For Fun at SJIMA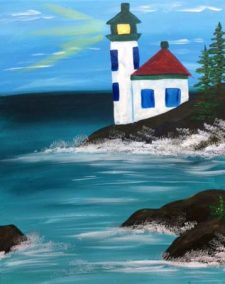 Art for Fun is a great way to celebrate a birthday, share a date night, create team building, just enjoy a night out on your own or try your hand at making art. The two-hour, fun-filled art party takes place in a relaxed, interactive atmosphere. Budding artists follow step-by-step instructions from experienced artists. Everyone paints the same picture yet takes home his or her own unique creation. Enjoyment is guaranteed.
Kristen Douglas-Seitz is the instructor for all three sessions. Class size is limited, so sign up early online at www.sjima.org under "Learn" of phone 360-370-5050 during museum hours Thursday – Monday 11-5. The schedule is below.
The class fee is $40, all supplies are provided by SJIMA and everyone leaves with their own 16" X 20" painting. No experience is needed. Call Kristen at 918-688-6596 or email her at sanjuanaff@gmail.com if you have questions.
Friday, September 10, 2021
5:30 pm-7:30 pm
Guiding Light
Saturday September 11th, 2021
9:30 am – 11:30 am
Poppies by the Sea
Saturday September 11th, 2021
2:00 pm – 4:00 pm
Twilight Glow