County expected to be impacted by wildfire smoke through the weekend
Posted August 14, 2021 at 5:41 am by Tim Dustrude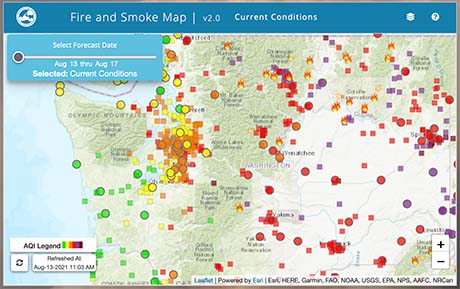 Wild­fire smoke from fires in British Colum­bia and East­ern Wash­ing­ton has set­tled over the Coun­ty and is expect­ed to be here through the weekend.
Lim­it your time and activ­i­ty lev­el out­doors to lim­it your expo­sure to harm­ful par­tic­u­late mat­ter. Some air qual­i­ty mon­i­tors in the Coun­ty are cur­rent­ly detect­ing lev­els that are both unhealthy, and unhealthy for sen­si­tive groups.
For more infor­ma­tion see the Wash­ing­ton Smoke blog.
You can support the San Juan Update by doing business with our loyal advertisers, and by making a one-time contribution or a recurring donation.