Friday Harbor High School Joins e4usa for 2021–22 Academic Year
Posted August 10, 2021 at 5:42 am by Tim Dustrude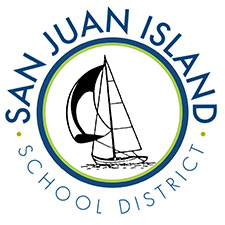 Engi­neer­ing for US All (e4usa), a nation­al ini­tia­tive to bring engi­neer­ing cours­es to high school stu­dents, is expand­ing its reach for the 2021–2022 aca­d­e­m­ic year. Two years ago, e4usa launched a nov­el engi­neer­ing cur­ricu­lum in high schools across the Unit­ed States.
This mul­ti-insti­tu­tion­al effort was ini­ti­at­ed by five uni­ver­si­ties: Ari­zona State Uni­ver­si­ty, Uni­ver­si­ty of Mary­land, Mor­gan State Uni­ver­si­ty, Van­der­bilt Uni­ver­si­ty, and Vir­ginia Tech. It now has grown to include the Uni­ver­si­ty of Indi­anapo­lis. Fri­day Har­bor High School has recent­ly become the newest e4usa high school part­ner and plans to bring the design based intro­duc­to­ry engi­neer­ing course to its stu­dents this fall.
The e4usa pro­gram aims to expand access to engi­neer­ing for high school stu­dents, encour­ages them to see them­selves as engi­neers, and helps them rec­og­nize the role of engi­neer­ing in their every­day lives.
"I've learned the prob­lem solv­ing process, which is applic­a­ble to any field," says one e4usa stu­dent at Brent­wood High School in Ten­nessee. "I've also learned about work­ing in teams."
The program's pilot year was a great suc­cess! Addi­tion­al high schools across the coun­try joined our efforts in 2020–2021, and we are con­tin­u­ous­ly expand­ing with even more high schools join­ing the team in 2021–2022. e4usa stu­dents are pos­i­tive­ly impact­ing their com­mu­ni­ties. Stu­dents in one Penn­syl­va­nia high school have part­nered with a local ele­men­tary school to make edu­ca­tion more acces­si­ble for stu­dents. "My stu­dents and I have ben­e­fit­ed great­ly from our expe­ri­ence," says their e4usa teacher, Jim Muscarella.
The e4usa pro­gram fills a cur­rent gap in engi­neer­ing edu­ca­tion train­ing by recruit­ing high school teach­ers of all dis­ci­plines. No pri­or engi­neer­ing expe­ri­ence is required to become an e4usa teacher. In addi­tion to inten­sive online and in-per­son pro­fes­sion­al learn­ing oppor­tu­ni­ties for par­tic­i­pat­ing teach­ers, e4usa uses a part­ner­ship mod­el that pairs high school teach­ers with engi­neers at local uni­ver­si­ties to pro­vide sup­port for the instruc­tion of the course. Fri­day Har­bor has part­nered with Uni­ver­si­ty of Wash­ing­ton to sup­port Sam Gar­son who will be teach­ing the inau­gur­al e4usa course at Fri­day Har­bor for the 2021–2022 school year.
The e4usa cur­ricu­lum is avail­able to schools free of charge. Par­tic­i­pat­ing pilot teach­ers receive funds to pur­chase class­room mate­ri­als. Adam Guidry, an e4usa teacher, from Ten­nessee said, "It has rein­forced what I believe about teach­ing engi­neer­ing and it's super impor­tant that every­body should have an engi­neer­ing class."
This year, e4usa has reached over 1,500+ stu­dents, includ­ing numer­ous seniors who plan to study engi­neer­ing and have been accept­ed to col­leges like Geor­gia Insti­tute of Tech­nol­o­gy, Drex­el Uni­ver­si­ty, Ten­nessee Tech, Uni­ver­si­ty of Ten­nessee Knoxville, Uni­ver­si­ty of Cen­tral Flori­da, Uni­ver­si­ty of Mary­land, Uni­ver­si­ty of Alaba­ma, New Mex­i­co Tech, and Col­orado School of Mines. As a new e4usa high school part­ner, Fri­day Har­bor High School will help e4usa reach over 2,000 stu­dents in the 2021–2022 aca­d­e­m­ic year.
e4usa is sup­port­ed by the Nation­al Sci­ence Foun­da­tion. To learn more about e4usa, please vis­it e4usa.umd.edu. If your child is a stu­dent at Fri­day Har­bor High School and would like to enroll in the e4usa course, please con­tact Hai­ley Hen­der­son-Paul at haileyhendersonpaul@sjisd.org or 360–370-7139.
The San Juan Island School Dis­trict School Dis­trict offers class­es in many career and tech­ni­cal edu­ca­tion pro­gram areas such as Culi­nary Arts, Career Prep, STEM and Com­put­er Sci­ence under its open admis­sions pol­i­cy. For more infor­ma­tion about CTE course offer­ings and admis­sions cri­te­ria, con­tact CTE Direc­tors, Liz Var­varo, elizabethvarvaro@sjisd.org, or Sam Gar­son, samuelgarson@sjisd.org, PO Box 458, FH, WA, (360) 378‑4133. Lack of Eng­lish lan­guage pro­fi­cien­cy will not be a bar­ri­er to admis­sion and par­tic­i­pa­tion in career and tech­ni­cal edu­ca­tion programs.
San Juan Island School Dis­trict does not dis­crim­i­nate in any pro­grams or activ­i­ties on the basis of sex, race, creed, reli­gion, col­or, nation­al ori­gin, age, vet­er­an or mil­i­tary sta­tus, sex­u­al ori­en­ta­tion, gen­der expres­sion or iden­ti­ty, dis­abil­i­ty, or the use of a trained dog guide or ser­vice ani­mal and pro­vides equal access to the Boy Scouts and oth­er des­ig­nat­ed youth groups.
You can support the San Juan Update by doing business with our loyal advertisers, and by making a one-time contribution or a recurring donation.