Port Commission Meeting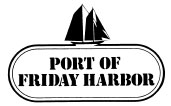 San Juan Island Yacht Club
Wednesday August 11, 2021 at 12:00 PM
Regular Meeting Agenda
With Covid-19 restrictions lifted, the public is now able to attend the meeting in person. You may also dial into the meeting via the link listed below. Please note that if you are attending via the link, it will be in listen only mode, and comments will not be able to be made.
Join Zoom Meeting click here
Meeting ID: 379 684 7063
Password: 7063
Citizen comments/requests: Citizens can make a brief comment or may ask the Commission to schedule a topic for further discussion at a future meeting.
Discussion Items:
A. Discuss whether the Port should adopt Juneteenth as a Port Holiday.
B. Review the Letter to the County relating to Jackson Beach Road traffic calming.
Action Items:
A. Consider approval of the Aeronautical Services site plan and lease for Weber Way tracts 3 & 4.
Regular Business:
A. Approve Minutes from July 16, 2021.
B. Approve payroll and vouchers.
Staff Reports:
A. Long term care plans.
B. Jensen's rebuild update.
C. Marine Technical Center update.
Port Commissioner and Committee Reports:
Adjourn