HOT TOPIC #54: August 12, 2021
Posted August 13, 2021 at 10:15 am by Tim Dustrude
COVID-19 updates from San Juan Coun­ty around sub­jects on the minds of islanders
Surg­ing Cas­es: The Islands' New Reality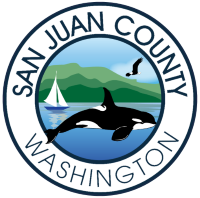 Four­teen new COVID cas­es were report­ed in San Juan Coun­ty on August 10th. While 11 of these cas­es were tied to two house­hold clus­ters, this is still an alarm­ing number.
The num­ber of hos­pi­tal beds devot­ed to COVID patients in Wash­ing­ton is dou­bling about every 10 days. This cur­rent surge is begin­ning to impact our access to advanced med­ical care.
It is time to rethink our under­stand­ing of COVID in the islands and beyond.
The Delta vari­ant is spread­ing rapid­ly across the world, the Unit­ed States, Wash­ing­ton, and San Juan Coun­ty. It is here. Recent local cas­es have come via trav­el, host­ing vis­i­tors, attend­ing large events, or unde­ter­mined caus­es. Islanders should assume that if they spend time indoors and in prox­im­i­ty of unmasked indi­vid­u­als, that they will even­tu­al­ly be exposed.
While the exact sci­ence around the sever­i­ty and infec­tious­ness of the Delta vari­ant is far from com­plete, we have a good under­stand­ing of the basic sit­u­a­tion. This new strain of COVID is high­ly trans­mis­si­ble and is behav­ing in ways not seen in pre­vi­ous ver­sions of the dis­ease. The risk to our com­mu­ni­ty, espe­cial­ly for those who are unvac­ci­nat­ed is real and significant.
Despite this new risk, vac­ci­nat­ed indi­vid­u­als should approach COVID as a dis­ease to be wary of, but not to live in mor­tal fear of. Some vac­ci­nat­ed indi­vid­u­als will become sick, but the vac­cine is tremen­dous­ly effec­tive at pre­vent­ing seri­ous ill­ness. Those who have made the choice to be vac­ci­nat­ed should con­tin­ue to feel extreme­ly con­fi­dent in their deci­sion and their lev­el of protection.
Those who remain unvac­ci­nat­ed should be far more con­cerned. The unvac­ci­nat­ed are more like­ly to become infect­ed and the risk of severe ill­ness and hos­pi­tal­iza­tion is many times greater. The exact num­bers are shift­ing rapid­ly, but to date about 5.4% of WA res­i­dents infect­ed with COVID end up in the hos­pi­tal, and about 1.2% of WA res­i­dents infect­ed with COVID die. As just a very rough mea­sure, if one were to assume that all the approx­i­mate­ly 4,200 San Juan Coun­ty res­i­dents who remain unvac­ci­nat­ed are even­tu­al­ly infect­ed with COVID, about 225 of them may end up in the hos­pi­tal and 50 of them will die. Remem­ber that near­ly 1400 of those 4,200 unvac­ci­nat­ed res­i­dents are chil­dren who are not yet able to receive the COVID-10 vac­cine and are rely­ing on the com­mu­ni­ty around them to pro­tect them.
The bot­tom line is that a far more infec­tious strain of COVID is in our com­mu­ni­ty and we should expect that case num­bers will con­tin­ue to increase dramatically.
So, what comes next giv­en cur­rent trends?
Impacts to our pub­lic health and region­al health­care sys­tem will become more severe, poten­tial­ly lim­it­ing access to advanced care for all ailments.
A very small but pre­dictable per­cent­age of unvac­ci­nat­ed indi­vid­u­als will con­tin­ue to end up hos­pi­tal­ized with COVID. About 20% of those unvac­ci­nat­ed indi­vid­u­als who end up in the hos­pi­tal will die from the disease.
The pre­vi­ous manda­to­ry mask­ing order for inside San Juan Coun­ty busi­ness­es will be rein­stat­ed as of 5pm on Fri­day August 13th. This is being done pri­mar­i­ly to do our part to relieve the strain on our health­care system.
Those who choose to remain unvac­ci­nat­ed will need to be extra­or­di­nar­i­ly cau­tious to ensure their safety.
Giv­en the mas­sive and pre­ventable surge in cas­es, social and reg­u­la­to­ry pres­sure on those who choose to remain unvac­ci­nat­ed will increase.
Par­ents of chil­dren 11 and under will con­tin­ue to await news about new approvals for vac­cine that will enable them to vac­ci­nate their children.
Local pub­lic health and health­care providers will strug­gle to keep up with demand for test­ing, dis­ease sur­veil­lance, and rou­tine care.
What should we as islanders be doing?
First off, it is total­ly rea­son­able and prob­a­bly healthy for vac­ci­nat­ed islanders to feel frus­tra­tion that we're in this posi­tion. It didn't have to be this way, but nation­al vac­ci­na­tion rates nev­er reached a lev­el that would stamp out the disease.
Mask up when in pub­lic indoors. Think of it as doing a thank­less and immea­sur­able favor for the pub­lic health and health­care sys­tem staff whose ongo­ing capac­i­ty to sup­port this cri­sis is stretched to its break­ing point.
Be thought­ful with your social­iz­ing and trav­el. We're not advo­cat­ing full lock down but be smart and mod­er­ate in your interactions.
Busi­ness­es should look extreme­ly care­ful­ly at all approach­es to ensure a ful­ly vac­ci­nat­ed work­force. Remem­ber that vac­ci­nat­ed close con­tacts of a pos­i­tive case are not sub­ject to the 14-day quar­an­tine require­ment, but unvac­ci­nat­ed close con­tacts of a pos­i­tive case are.
Work to keep anx­i­ety and anger at bay. This need­less surge is immea­sur­ably dis­heart­en­ing and we're all exhaust­ed but keep­ing a sense of per­spec­tive and pri­or­i­tiz­ing both phys­i­cal and men­tal health is key.
Look for cre­ative ways to build a cul­ture that even more strong­ly encour­ages vac­ci­na­tion. Some busi­ness­es are choos­ing to only serve vac­ci­nat­ed indi­vid­u­als, many who have suf­fered from COVID are speak­ing up to share their expe­ri­ences, and more and more peo­ple are not choos­ing to sit qui­et­ly with their frus­tra­tions as we suf­fer through an avoid­able case spike. Only through chang­ing the dia­log can we change the outcome.
At this point, the strain on our health­care sys­tem is increas­ing dra­mat­i­cal­ly and fur­ther impacts are unavoid­able. Yet, with quick col­lec­tive action we can lim­it the dam­age, hit the peak of the surge soon­er, and start get­ting back to some ver­sion of normal.
You can support the San Juan Update by doing business with our loyal advertisers, and by making a one-time contribution or a recurring donation.