San Juan County Health Officer Reinstates Masking Requirements
Posted August 13, 2021 at 10:15 am by Tim Dustrude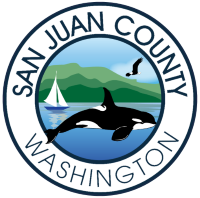 As per a recent Health Offi­cer order, all cus­tomers enter­ing busi­ness­es in San Juan Coun­ty will be required to mask up begin­ning at 5pm on Fri­day August 13th.
San Juan Coun­ty Health Offi­cer Dr. Frank James high­lights his think­ing, "First off, I want to say that I tru­ly hoped that vac­ci­na­tion rates in our nation would be high enough that this moment wouldn't come. But hos­pi­tal beds are fill­ing quick­ly with COVID patients, and our region­al health­care sys­tem is begin­ning to strug­gle. We all need to sac­ri­fice to reduce that strain, even those of us who are vaccinated."
This order is iden­ti­cal to the pre­vi­ous mask­ing require­ment in San Juan Coun­ty that was lift­ed on June 30th.
Dr. James explains the sit­u­a­tion, "Those who are vac­ci­nat­ed are not caus­ing the imme­di­ate prob­lem, since they are extreme­ly unlike­ly to be hos­pi­tal­ized. How­ev­er, vac­ci­nat­ed indi­vid­u­als can trans­mit the dis­ease in some cas­es. As we have seen over and over through the pan­dem­ic, mask­ing up does reduce case­loads, and that's the goal of course."
With oth­er juris­dic­tions in Wash­ing­ton imple­ment­ing sim­i­lar orders, San Juan Coun­ty is part of a coor­di­nat­ed effort to try to pre­serve capac­i­ty in the region­al med­ical and pub­lic health system.
San Juan Coun­ty Health & Com­mu­ni­ty Ser­vices Direc­tor Mark Tomp­kins sym­pa­thizes with those who are frus­trat­ed, "My team is exhaust­ed and stretched and we're all so dis­ap­point­ed that we're fac­ing a new surge in cas­es that was com­plete­ly pre­ventable. The Delta vari­ant is high­ly infec­tious, and that com­bined with so many unvac­ci­nat­ed indi­vid­u­als is caus­ing this cri­sis. While vac­ci­na­tion rates in the islands are rel­a­tive­ly high, they're not per­fect and there are many across Wash­ing­ton and beyond who are mak­ing the choice to remain unvac­ci­nat­ed. We count on main­land hos­pi­tals for our advanced care and doing all we can to help reduce need is our duty."
The mask­ing order will remain in place until lift­ed, some­thing that will hap­pen once case vol­umes have returned to base­line levels.
Busi­ness­es look­ing for no-non­sense sig­nage announc­ing the order may uti­lize these fly­ers: VERSION 1 / VERSION 2.
You can support the San Juan Update by doing business with our loyal advertisers, and by making a one-time contribution or a recurring donation.