San Juan Singers Winter 2021 Concert General Meeting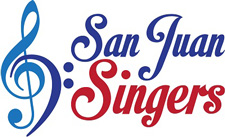 San Juan Singers, directed by Angel Michaels, is a community chorus open to all San Juan Island residents aged 14-100+. A general meeting for all members, returning and prospective, is scheduled for September 1, 2021, 7:00-8:00pm at the Brickworks building.
At this meeting you will schedule an audition or voice check, learn about the rehearsal protocols required by state and federal health organizations, and find out what wonderful music we'll be singing this fall & winter.
All attendees must be masked. Music will be issued and weekly rehearsals will begin September 8 at 7:00pm in the Brickworks building. Performances are scheduled December 11 and 12, with a "tech week" scheduled the week prior. If you are unable to attend this meeting or for more information email angel.michaels@gmail.com.