Will an insightful outreach and education approach help bring back the Southern Resident orcas?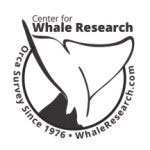 Lots of people have lots of great ideas. But only a few turn their perceptive concepts into reality. The visionary-to-reality folks are the ones to follow. The Center for Whale Research's Founder and Senior Scientist, Ken Balcomb, is one of these. Opening the ORCA SURVEY Outreach & Education Center in Friday Harbor in 2018 is yet another example of why he's THE person to pay attention to . . . if the Southern Resident orcas are to have any chance at long-term survival.
On an unusually wintery day in late February 2018, Ken Balcomb trudged through snow past a second-hand store on the south side of First Street. Glancing in the window, he saw the reflection of a red and white FOR RENT sign on one of the interior walls.
"Huh. This place is available," Ken remembered thinking, followed by: "Good location." The building was only a block from the main drag, Spring Street; it was next door to the Hungry Clam restaurant, and it was a stone's throw from the Friday Harbor Ferry Terminal. Thinking like a commercial realtor: street-level entrance, massive front window, lots of parking. "It's the perfect location!"