A Carbon-Free Adventure!
Posted September 24, 2021 at 5:51 am by Tim Dustrude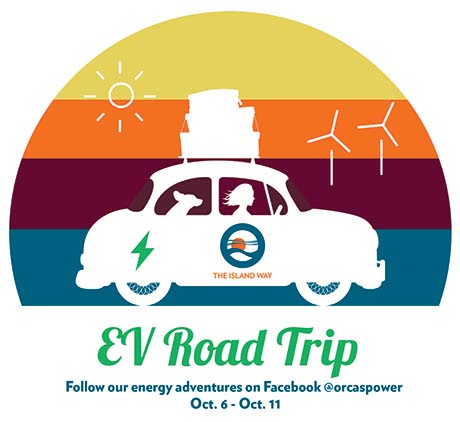 Fol­low OPALCO's EV Road Trip in October:
Start­ing Octo­ber 6th, an exclu­sive team from OPALCO (Com­mu­ni­ca­tion Spe­cial­ist Krista Bouchey and the "Switch it up pup" Pep­per) will be dri­ving the Co-op's Kia Niro 100% elec­tric vehi­cle (EV) to East­ern Wash­ing­ton and back, mak­ing stops to vis­it wind and hydro projects, inno­v­a­tive pub­lic pow­er projects and – of course – EV charg­ing sta­tions along the way.
The pur­pose of the EV Road Trip is to demon­strate the pow­er and range of elec­tric vehi­cles and talk with peo­ple along the way about EVs and pub­lic pow­er. Fol­low the jour­ney in videos, pho­tos and (COVID safe) park­ing-lot inter­views on Face­Book at @orcaspower, and also on OPALCO's This Elec­tric Life Blog at www.opalco.com.
"This is a big learn­ing curve for me," said Krista, who still dri­ves a gas-pow­ered car at home. "We've got it all mapped out, but Pep­per and I have to be ready for any­thing – I've nev­er even charged at a pub­lic charg­ing sta­tion before! Hope­ful­ly, we'll meet some good peo­ple along the way to help us out. It's going to be a fun adventure!"
To pre­pare for this car­bon-free jour­ney, Krista used the ABRP (a bet­ter road trip plan­ner) and Plug Share apps on her phone to find EV charg­ers and chart a course that works with the range of the Kia, which is about 230 miles per charge. This was chal­leng­ing when try­ing to get to hydro projects in remote areas!
The trip begins – as all island adven­tures do – with a fer­ry ride to Ana­cortes and the itin­er­ary includes:
Day 1: Tour Micro­grid EV Charg­ing Plant at Sno­homish PUD and Tour BPA trans­mis­sion sta­tion in Mon­roe, Charge on Mer­cer Island, Inter­view Tes­la driver
Day 2: Tour Puget Sound Energy's Wild Hors­es Wind Farm in Ellensburg
Day 3: Tour Horn Rapids Solar, Stor­age, and Train­ing Site and Ben­ton REA project with Joel Mietzner
Day 4: Priest Rapids dam and Wana­pum dam
Day 5: Make it back to the islands (280 mile stretch)
Switch­ing to elec­tric­i­ty for trans­porta­tion is key to address­ing the cli­mate emer­gency and a crit­i­cal piece of OPALCO's Island Way Cam­paign to build a sus­tain­able ener­gy future for the islands. Trans­porta­tion accounts for 45% of all car­bon emis­sions in Wash­ing­ton State and an aver­age of 53% of all con­sumer total ener­gy expenditures.
Elec­tric vehi­cles save at least $1,000/year over gas-pow­ered cars, reduce total ener­gy spend­ing and car­bon impact. OPALCO has online tools to help cal­cu­late your car­bon emis­sions, com­pare mod­els (new and used) and project your sav­ings with an EV: https://energysavings.opalco.com/energy-savings/electric-vehicles-evs/.
OPALCO's Island Way cam­paign is here to help co-op mem­bers pre­pare for the ener­gy future that is com­ing FAST. The cli­mate emer­gency and Wash­ing­ton Clean Ener­gy Trans­for­ma­tion Act (CETA) are dri­ving a tran­si­tion away from fos­sil fuels. OPALCO has a plan to build micro­grids through­out the islands for local ener­gy resilien­cy and to explore renew­able gen­er­a­tion options on the main­land that offer mem­bers afford­abil­i­ty and reli­a­bil­i­ty. OPALCO has tools, rebates and resources to help mem­bers make wise use of electricity.
Orcas Pow­er & Light Coop­er­a­tive (OPALCO) is our mem­ber-owned coop­er­a­tive elec­tric util­i­ty, serv­ing more than 11,400 mem­bers on 20 islands in San Juan Coun­ty. OPALCO pro­vides elec­tric­i­ty that is 97% green­house-gas free and is gen­er­at­ed pre­dom­i­nant­ly by hydro­elec­tric plants. OPALCO was found­ed in 1937. Fol­low OPALCO @OrcasPower on Face­book and Twitter.
You can support the San Juan Update by doing business with our loyal advertisers, and by making a one-time contribution or a recurring donation.