Letters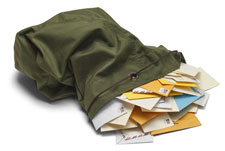 In the mailbag this morning we have this letter from Sasha von Dassow…
To the Editor:
9/11/21
At 6 am on the 20th anniversary of 9/11 we in the San Juan Islands are at a standstill because a few folks working in the state ferry system decided to stage a sick out in protest of the Washington State vaccine mandate. I run a small grocery shipping company and today we are supposed to bring bread, milk, produce and other goods for Friday Harbor residents, tourists, and school children (and their pets)- you know, We the People. There are probably 4 or 5 other trucks bigger than mine waiting in line too, the local school athletic team isn't coming home from their away game, and folks coming to and leaving our island aren't moving. Our marine highway is taken away by a few people not showing up to work at our public utility in protest of a vaccine mandate.
It's not an inconvenience to wait for the ferry workers to make their point in the case of food- it is the system not working; it means spoiled food, price hikes, and people in danger of going hungry. Recently we have seen vivid proof that we only have about a 3 day supply of food on the islands at any given time with empty shelves at the stores due to supply line disruptions everywhere. It's scary knowing that our food supply can stop arriving because of only a few people. And on the anniversary of 9/11, when so many people sacrificed so much to save what they could and honor what they couldn't, when people died protecting their fellow citizens.
This isn't about individual freedoms or politics or where one gets the news or who we choose to believe. It's about survival, and the science is overwhelmingly in- vaccinations work and aren't risky. Those of us who are vaccinated are living proof of that all around the world. To anti-maskers and anti-vaxxers- do you want to eat? Want a job? Need medical care? Need parts for your car? Does your kid need to go to school? Get vaccinated, wear a mask, and pat yourself on the back for doing your part as a citizen of the USA and the world, for helping to get our society working again.
If your answer remains "No, thanks", please turn in your voter registration card, your passport, and your American flag. You don't deserve to be a citizen of the USA anymore and you support the enemy, a virus. Like many of your neighbors, friends, and relatives, I am tired of having sand thrown in the gears of my life for your choices, and I think it's time for you to act like real life patriotic Americans and get the job done. On the anniversary of 9/11 we should be trying to live up to the sacrifices of those who came before us, not wasting precious lives and time.
Sasha von Dassow