Letters
Posted September 22, 2021 at 10:09 am by Tim Dustrude
In the SJ Update Mail­bag today we have this let­ter from the SJC Repub­li­can Par­ty Chair, Daniel Schwartz…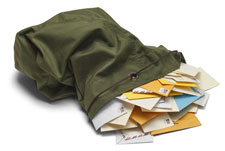 State­ment on Vac­cine Mandates
San Juan Coun­ty Repub­li­can Par­tyThe Repub­li­can Par­ty is not anti-vac­cine: it is for the right of a free and informed cit­i­zen­ry to make its own health choices.Never in our 245-year his­to­ry have fed­er­al, state, and local politi­cians imposed manda­to­ry vaccine/personal med­ical pro­ce­dure require­ments that force cit­i­zens to com­ply or risk los­ing their jobs, their rent­ed homes, par­tic­i­pa­tion in free com­merce, and free trav­el with­in and between states.
Cre­ators and enforcers of these man­dates call them­selves believ­ers in "The Sci­ence". Their Sci­ence is not the sci­en­tif­ic method, rather it is Sci­en­tism; favor­ing sci­ence that jus­ti­fies a polit­i­cal agen­da. Exam­ples of Covid Sci­en­tism and its hypocrisy are all around us:
Con­ser­v­a­tive ral­lies and church/synagogue atten­dance are poten­tial "super spread­er events," but mass riots with loot­ing and arson, along with VIP and Hol­ly­wood celebri­ty par­ties are not.
Com­pa­nies with 101 employ­ees must man­date vac­cines. The US Postal Ser­vice is exempt, as are mem­bers of the US Con­gress and their staffs.
Tax-pay­ing U.S. cit­i­zens must mask up and get vac­ci­nat­ed. The 200,000+ ille­gal aliens tres­pass­ing our bor­der every month – at the invi­ta­tion of the Demo­c­rat admin­is­tra­tion — are not required to do so.
Peo­ple who had the virus and then recov­ered have pow­er­ful nat­ur­al immu­ni­ty, but they still are being required to take the vaccines.
Pres­i­dent Biden, in announc­ing his man­dates, made the absurd asser­tion that those who don't get vac­ci­nat­ed threat­en the well-being of those who are already vaccinated.
The vac­cine is there­fore not as reli­able as the Sci­ence has told us. And, for some peo­ple it is dangerous.
Politi­cized sci­ence, and its hand­maid the media, have delib­er­ate­ly induced a state of pan­ic and fear among many vul­ner­a­ble Amer­i­cans, even though there are suc­cess­ful ther­a­peu­tics avail­able, the cur­rent Delta wave of infec­tion has peaked, herd immu­ni­ty is increas­ing, and death rates have sig­nif­i­cant­ly fallen.
These are but a few exam­ples of how un-sci­en­tif­ic and anti-sci­ence the man­dates are. Indeed, the man­dates have lit­tle to do with sci­ence or health, but every­thing to do with control.
Many coura­geous cit­i­zens across our econ­o­my are risk­ing their employ­ment by resist­ing these uncon­sti­tu­tion­al man­dates. Why would health care work­ers quit their jobs or allow them­selves to be fired rather than sub­mit to forced vac­ci­na­tion? What do they know? Here in the San Juans, trans­porta­tion work­ers are push­ing back, which affects the func­tion­ing of our fer­ry service.
Our lives and busi­ness­es are dis­rupt­ed when fer­ries are can­celed due to the absence of required U.S. Coast Guard-licensed crew per­son­nel. That hurts all of us regard­less of our polit­i­cal align­ments. Nev­er­the­less, we, the San Juan Coun­ty Repub­li­can Par­ty, stand in sol­i­dar­i­ty with our fel­low cit­i­zens who still believe that the Con­sti­tu­tion and the Bill of Rights have mean­ing in the 21st Cen­tu­ry. The answer? Don't can­cel lib­er­ty and the right of cit­i­zens to choose their med­ica­tions; rather can­cel these uncon­sti­tu­tion­al intru­sions, sup­pos­ed­ly jus­ti­fied by politi­cized sci­ence, into our per­son­al free­dom. Para­phras­ing Ben­jamin Franklin; those who seek safe­ty at the cost of free­dom will get neither.
Con­stant fear-mon­ger­ing, lock­downs, mask­ing man­dates, and now vac­cine man­dates, have giv­en pow­er hun­gry politi­cians a path­way to a total­ly man­aged anti-Amer­i­can soci­ety. Will we now be told that glob­al warm­ing is a health emer­gency requir­ing man­dat­ed restric­tions on the use of our auto­mo­biles? Or told that own­ing guns is a pub­lic health cri­sis, jus­ti­fy­ing aban­don­ment of the 2nd Amend­ment? The cri­sis of vio­lence is not a health cri­sis, it is a crime cri­sis caused by vio­lent crim­i­nals, who increas­ing­ly are not pros­e­cut­ed and are released and returned to soci­ety to com­mit more crimes.
Over the last dozen years, we've heard talk about "red lines," which imply that oppo­nents cross them at their per­il. The God-giv­en rights and lib­er­ties enshrined in our Bill of Rights make up our red line. As Repub­li­cans, and as Amer­i­can cit­i­zens, we will nev­er allow our lib­er­ty to be canceled.
SJCRP
Capt. Daniel S. Schwartz, USMM Ret.
Chair, San Juan Coun­ty Repub­li­can Party
You can support the San Juan Update by doing business with our loyal advertisers, and by making a one-time contribution or a recurring donation.