Letters
In the SJ Update Mailbag today we have this letter from the SJC Republican Party Chair, Daniel Schwartz…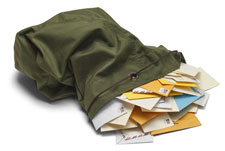 Statement on Vaccine Mandates
San Juan County Republican PartyThe Republican Party is not anti-vaccine: it is for the right of a free and informed citizenry to make its own health choices.Never in our 245-year history have federal, state, and local politicians imposed mandatory vaccine/personal medical procedure requirements that force citizens to comply or risk losing their jobs, their rented homes, participation in free commerce, and free travel within and between states.
Creators and enforcers of these mandates call themselves believers in "The Science". Their Science is not the scientific method, rather it is Scientism; favoring science that justifies a political agenda. Examples of Covid Scientism and its hypocrisy are all around us:
Conservative rallies and church/synagogue attendance are potential "super spreader events," but mass riots with looting and arson, along with VIP and Hollywood celebrity parties are not.
Companies with 101 employees must mandate vaccines. The US Postal Service is exempt, as are members of the US Congress and their staffs.
Tax-paying U.S. citizens must mask up and get vaccinated. The 200,000+ illegal aliens trespassing our border every month – at the invitation of the Democrat administration — are not required to do so.
People who had the virus and then recovered have powerful natural immunity, but they still are being required to take the vaccines.
President Biden, in announcing his mandates, made the absurd assertion that those who don't get vaccinated threaten the well-being of those who are already vaccinated.
The vaccine is therefore not as reliable as the Science has told us. And, for some people it is dangerous.
Politicized science, and its handmaid the media, have deliberately induced a state of panic and fear among many vulnerable Americans, even though there are successful therapeutics available, the current Delta wave of infection has peaked, herd immunity is increasing, and death rates have significantly fallen.
These are but a few examples of how un-scientific and anti-science the mandates are. Indeed, the mandates have little to do with science or health, but everything to do with control.
Many courageous citizens across our economy are risking their employment by resisting these unconstitutional mandates. Why would health care workers quit their jobs or allow themselves to be fired rather than submit to forced vaccination? What do they know? Here in the San Juans, transportation workers are pushing back, which affects the functioning of our ferry service.
Our lives and businesses are disrupted when ferries are canceled due to the absence of required U.S. Coast Guard-licensed crew personnel. That hurts all of us regardless of our political alignments. Nevertheless, we, the San Juan County Republican Party, stand in solidarity with our fellow citizens who still believe that the Constitution and the Bill of Rights have meaning in the 21st Century. The answer? Don't cancel liberty and the right of citizens to choose their medications; rather cancel these unconstitutional intrusions, supposedly justified by politicized science, into our personal freedom. Paraphrasing Benjamin Franklin; those who seek safety at the cost of freedom will get neither.
Constant fear-mongering, lockdowns, masking mandates, and now vaccine mandates, have given power hungry politicians a pathway to a totally managed anti-American society. Will we now be told that global warming is a health emergency requiring mandated restrictions on the use of our automobiles? Or told that owning guns is a public health crisis, justifying abandonment of the 2nd Amendment? The crisis of violence is not a health crisis, it is a crime crisis caused by violent criminals, who increasingly are not prosecuted and are released and returned to society to commit more crimes.
Over the last dozen years, we've heard talk about "red lines," which imply that opponents cross them at their peril. The God-given rights and liberties enshrined in our Bill of Rights make up our red line. As Republicans, and as American citizens, we will never allow our liberty to be canceled.
SJCRP
Capt. Daniel S. Schwartz, USMM Ret.
Chair, San Juan County Republican Party