New Plastic Recycling Coming Soon
Posted September 28, 2021 at 10:36 am by Tim Dustrude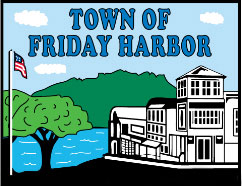 Fri­day Har­bor announces pilot pro­gram for res­i­den­tial curb­side plas­tic film recycling
FRIDAY HARBOR – The Town of Fri­day Har­bor, in part­ner­ship with SC John­son, a man­u­fac­tur­er of house­hold con­sumer brands, is kick­ing off a pilot pro­gram to offer curb­side col­lec­tion and recy­cling of plas­tic film to its res­i­dents, the sec­ond pro­gram to launch in Washington.
Through this curb­side pilot pro­gram, res­i­dents can recy­cle clean and dry plas­tic bags, plas­tic stor­age bags such as Ziploc® brand bags, plas­tic gro­cery and pro­duce bags, dry clean­ing bags, and oth­er flex­i­ble plas­tic film by plac­ing it in a 'Plas­tic Film Only' recy­cling bin. "We are very excit­ed to part­ner with SC John­son on this new pro­gram," said Fri­day Har­bor May­or Farhad Ghatan. "So much of our exist­ing waste stream con­sists of these plas­tic films, and we are eager to help reduce land fill waste and pro­mote recy­cling of these products."
Begin­ning Octo­ber 27th, col­lec­tion will take place on the fourth Wednes­day of every month for one year. In ear­ly Octo­ber, bins will be dropped off to every Fri­day Har­bor res­i­dence that cur­rent­ly receives garbage can pick-up ser­vice. There is no addi­tion­al charge for this ser­vice. If you do not get a bin or want to sign up for garbage pick-up, please call (360) 378‑2810.
Pri­or to Fri­day Har­bor, the com­mu­ni­ty of Point Roberts, Wash­ing­ton, part­nered with SC John­son on a curb­side plas­tic film recy­cling pro­gram. These pro­grams are part of a larg­er effort by SC John­son to reduce plas­tic waste. Col­lec­tive­ly, the pro­grams have stopped more than 6,000 pounds of plas­tic film from end­ing up in local landfills.
For more infor­ma­tion about Fri­day Harbor's pro­gram – includ­ing more spe­cif­ic instruc­tions on how to par­tic­i­pate, accept­ed vs. not accept­ed mate­ri­als, and a cal­en­dar with pick-up dates for the dura­tion of the pro­gram – please vis­it: fridayharbor.org/2151/Refuse-Recycling. You may also con­tact the town's Refuse Depart­ment at refuse@fridayharbor.org and (360) 378‑2810.
You can support the San Juan Update by doing business with our loyal advertisers, and by making a one-time contribution or a recurring donation.