New Plastic Recycling Coming Soon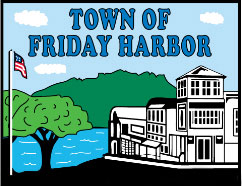 Friday Harbor announces pilot program for residential curbside plastic film recycling
FRIDAY HARBOR – The Town of Friday Harbor, in partnership with SC Johnson, a manufacturer of household consumer brands, is kicking off a pilot program to offer curbside collection and recycling of plastic film to its residents, the second program to launch in Washington.
Through this curbside pilot program, residents can recycle clean and dry plastic bags, plastic storage bags such as Ziploc® brand bags, plastic grocery and produce bags, dry cleaning bags, and other flexible plastic film by placing it in a 'Plastic Film Only' recycling bin. "We are very excited to partner with SC Johnson on this new program," said Friday Harbor Mayor Farhad Ghatan. "So much of our existing waste stream consists of these plastic films, and we are eager to help reduce land fill waste and promote recycling of these products."
Beginning October 27th, collection will take place on the fourth Wednesday of every month for one year. In early October, bins will be dropped off to every Friday Harbor residence that currently receives garbage can pick-up service. There is no additional charge for this service. If you do not get a bin or want to sign up for garbage pick-up, please call (360) 378-2810.
Prior to Friday Harbor, the community of Point Roberts, Washington, partnered with SC Johnson on a curbside plastic film recycling program. These programs are part of a larger effort by SC Johnson to reduce plastic waste. Collectively, the programs have stopped more than 6,000 pounds of plastic film from ending up in local landfills.
For more information about Friday Harbor's program – including more specific instructions on how to participate, accepted vs. not accepted materials, and a calendar with pick-up dates for the duration of the program – please visit: fridayharbor.org/2151/Refuse-Recycling. You may also contact the town's Refuse Department at refuse@fridayharbor.org and (360) 378-2810.