San Juan County Land Bank September 2021 Meeting & Agenda
Posted September 15, 2021 at 5:52 am by Tim Dustrude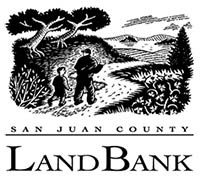 The San Juan Coun­ty Land Bank Com­mis­sion will hold its month­ly meet­ing on Sep­tem­ber 17, from 8:30am-11:15am via Zoom. The pub­lic is invit­ed to attend. Click HERE to down­load the agen­da (includes ZOOM link) and meet­ing materials.
To learn more about your Con­ser­va­tion Land Bank, vis­it sjclandbank.org. If you're inter­est­ed in vol­un­teer­ing and/or join­ing our mail­ing list, con­tact tanja@sjclandbank.org. We look for­ward to engag­ing with you!
About the San Juan Coun­ty Land Bank
The San Juan Coun­ty Land Bank is a local land con­ser­va­tion pro­gram, cre­at­ed by vot­ers in 1990, and fund­ed by a 1% real estate excise tax paid by pur­chasers of prop­er­ty in San Juan Coun­ty. Through con­ser­va­tion ease­ments or out­right pur­chas­es, the Land Bank pro­tects spe­cial places in the Islands includ­ing coast­lines, farm­land, forests and wetlands.
You can support the San Juan Update by doing business with our loyal advertisers, and by making a one-time contribution or a recurring donation.