Thor Hanson Book Launch
Posted September 7, 2021 at 5:48 am by Tim Dustrude
Hur­ri­cane Lizards and Plas­tic Squid
The Fraught and Fas­ci­nat­ing Biol­o­gy of Cli­mate Change
by Thor Hanson
There is always rea­son to cel­e­brate the release of a new book by San Juan Island biol­o­gist and author, Thor Han­son. If you've read Feath­ers, Seeds, and Buzz, and sat enthralled at one of Thor Hanson's live­ly and infor­ma­tive pre­sen­ta­tions, you'll be anx­ious to attend the launch­ing of the author's just-pub­lished, Hur­ri­cane Lizards and Plas­tic Squid, to be host­ed by Grif­fin Bay Book­store on Tues­day, Sep­tem­ber 28, 7:00 pm at Brickworks.
In Hur­ri­cane Lizards and Plas­tic Squid, Thor Han­son explores the remark­able ways that plants and ani­mals are respond­ing to cli­mate change: mov­ing, adapt­ing, and even evolv­ing. A sto­ry of hope, resilience, and risk, this book will sure­ly be remem­bered as the defin­ing nat­ur­al his­to­ry of an unnat­ur­al time. What could be more time­ly for San Juan Islanders after expe­ri­enc­ing a sum­mer of drought and heat waves?
Grif­fin Bay Book­store is nat­u­ral­ly delight­ed to cel­e­brate and hon­or the book's release. The only way we can host an in-per­son event safe­ly, how­ev­er, is to lim­it atten­dance. Order­ing and pre­pay­ing for a copy of the book before the event on Sep­tem­ber 28 is your tick­et for entry. Please note: the pur­chase of one book cov­ers entry for one per­son and a guest. All books will be signed by the author pri­or to the event. If you would like a per­son­al­ized mes­sage from Thor, please make arrange­ments with him after the event.
Grif­fin Bay Book­store is keep­ing your health and safe­ty as our first pri­or­i­ty, and con­se­quent­ly, we are insti­tut­ing a num­ber of pro­to­cols: All atten­dees will need to show proof of full vaccination—be sure to bring your cards or phone or oth­er doc­u­men­ta­tion to show us you've been ful­ly vac­ci­nat­ed. As is the case for all pub­lic indoor gath­er­ings, you will be required to wear a mask through­out the pro­gram. No chil­dren under 12 will be allowed to attend. Seat­ing will be lim­it­ed, and chairs will be spaced far enough apart to main­tain rec­om­mend­ed distancing.
Here are a cou­ple of reminders: If you would like to attend this event, you must reg­is­ter first by order­ing and pre-pay­ing for the book before the event. Since seat­ing will be lim­it­ed, it's a first pur­chase, first served kind of reg­is­tra­tion. At the door, you will be greet­ed by a staff mem­ber who will check proof of your vac­ci­na­tion and then give you the signed copy of the book you ordered and paid for. Remem­ber: You will not be able to attend unless you have pur­chased the book ahead of time and sub­mit­ted proof of vac­ci­na­tion at the door.
You may order by phone, 360–378-5511; by e‑mail, info@griffinbaybook.com; or in per­son at the book­store. You may order online, and if you do, you'll need to spec­i­fy that you will attend the event, please also note the num­ber of peo­ple in your par­ty. Bear in mind that we'll be lim­it­ing the num­ber of atten­dees so don't wait until the last minute to sign up.
We cer­tain­ly encour­age you to come ear­ly and be pre­pared to wait in line. It's going to take some doing to check every­one in, get books dis­trib­uted, and peo­ple seat­ed properly.
Grif­fin Bay Book­store is pay­ing close atten­tion to covid trans­mis­sion rates as well as case num­bers in San Juan Coun­ty. In the event of ris­ing cas­es, or new restric­tions enact­ed at the coun­ty or state lev­el, Grif­fin Bay Book­store reserves the right to can­cel this event. Don't wor­ry, though—all reg­is­trants who pur­chased the book, will still get their signed copy! We sin­cere­ly hope that the book launch will be held as planned. The only way we can cel­e­brate Thor Hanson's lat­est book is to have your coop­er­a­tion with the pro­ce­dures and pro­to­cols that we've designed to ensure a safe and enjoy­able evening for all.
Hur­ri­cane Lizards and Plas­tic Squid is already gar­ner­ing accolades:
"This is arguably the most sig­nif­i­cant dis­cus­sion of the biol­o­gy of glob­al warm­ing I know, brought to us in the intel­li­gent, wise, and beau­ti­ful prose we've come to rely upon Thor Han­son to deliv­er. If you read only one book on cli­mate change this year, let it be this one."
―Robert Michael Pyle, Ph.D., author of Win­ter­green and Nature Matrix
About the Author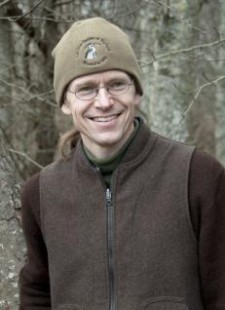 Thor Han­son is the author of Hur­ri­cane Lizards and Plas­tic Squid, Buzz, The Tri­umph of Seeds, Feath­ers, and The Impen­e­tra­ble For­est, as well as the illus­trat­ed children's favorite, Bartholomew Quill. Hon­ors for his books have includ­ed The John Bur­roughs Medal, The Phi Beta Kap­pa Award in Sci­ence, The AAAS/Subaru SB&F Prize, and three Pacif­ic North­west Book Awards, and his writ­ing has been trans­lat­ed into more than ten languages.
Hanson's aca­d­e­m­ic work includes co-edi­tor­ship of the vol­ume War­fare Ecol­o­gy, as well as dozens of papers in such jour­nals as Bio­Science, Con­ser­va­tion Biol­o­gy, Envi­ron­men­tal Con­ser­va­tion, Neotrop­i­cal Ornithol­o­gy, Neotrop­i­cal Pri­mates, The Pan-Pacif­ic Ento­mol­o­gist, and Mol­e­c­u­lar Ecol­o­gy. His pop­u­lar arti­cles and essays have appeared in pub­li­ca­tions rang­ing from Audubon and Ori­on to The Wall Street Jour­nal, The Times of Lon­don, The Los Ange­les Times, The Amer­i­can Schol­ar, The Guardian, and The Huff­in­g­ton Post.​
You can support the San Juan Update by doing business with our loyal advertisers, and by making a one-time contribution or a recurring donation.