APS-FH Volunteer of the Month
Posted October 2, 2021 at 5:49 am by Tim Dustrude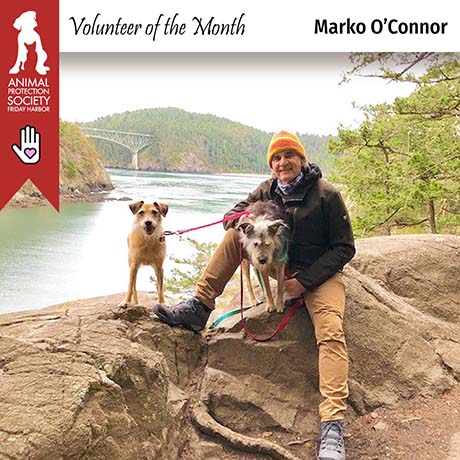 The Ani­mal Pro­tec­tion Soci­ety — Fri­day Har­bor is pleased to present Marko O'Connor as APS-FH Vol­un­teer of the Month for Octo­ber 2021.
Marko con­nect­ed with APS-FH through our home fur­nish­ings resale store, "Trea­sure Hounds". After pur­chas­ing a table and chair set, Marko noticed a cou­ple strug­gling to get their own pur­chase into their car. He went over to help and then left his phone num­ber with the vol­un­teer store clerk say­ing, "if any­one ever needs help again, call me, I feel I was born to move furniture".
Well, that is an offer we couldn't pass up! It didn't take long before we were call­ing Marko for help. Since that day Marko has helped to build stor­age shelves in the back of the store, move fur­ni­ture around (for hours!) dur­ing a store revamp, load numer­ous people's pur­chased items into their vehi­cles, and coor­di­nate the pick up of fur­ni­ture dona­tions from donor's homes. He even intro­duced his wife Yoshi to APS-FH who is now a week­ly vol­un­teer at Trea­sure Hounds.
Marko is gen­er­ous with his time and will­ing to do the hard work — it is not every­day we meet some­one who was "born to move fur­ni­ture". Thank you Marko for being there for the staff and ani­mals of APS-FH. You are mak­ing a difference!
You can support the San Juan Update by doing business with our loyal advertisers, and by making a one-time contribution or a recurring donation.