Ellie Parnes
Posted October 2, 2021 at 9:16 am by Tim Dustrude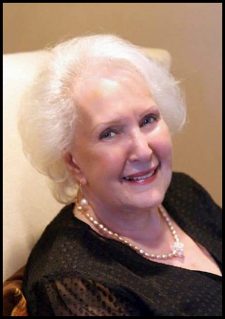 Ellie Parnes passed peace­ful­ly at The Vil­lage ear­ly Thurs­day morn­ing Sep­tem­ber 30, 2021 on San Juan Island at age 90. She was sur­round­ed by her friends and family.
She loved liv­ing in Fri­day Har­bor and get­ting to know so many Islanders. She had worked at Spa D Bune as a recep­tion­ist bring­ing her grace and ele­gance. She was also a nee­dle point design­er and artist for over 25 years with nation­al acclaim.
Ellie was a great sup­port for many peo­ple with an abil­i­ty to tru­ly lis­ten and offer her wis­dom. A shin­ing light to all who know her. Known to have said "If you look your best, you feel your best." She kept this pos­i­tive atti­tude through­out her life. She will be missed by all who knew and loved her.
The fam­i­ly wants to thank the friends and care­givers, the Hos­pice teams and a spe­cial thanks to Doc­tor Rachel Bish­op who all became an impor­tant part of Ellie's fam­i­ly and showed her such lov­ing kind­ness in recent years.
She is sur­vived by daugh­ters Janie Ogle (Ter­ry), Nan­cy Gaynor (Richard), grand­chil­dren Amelia (Chad), Emi­ly (Jason) and Adam, great-grand­daugh­ter Skye, niece Julia, cousins Jack, Joel and Lan­nie. Also dear to her were long­time friends Doris, JoEllen, Beth, Krista, Susan, Dana, Marie and Alison.
No ser­vice is sched­uled at this time.
You can support the San Juan Update by doing business with our loyal advertisers, and by making a one-time contribution or a recurring donation.