Going The Distance with Artist Nola Ahola
Posted October 27, 2021 at 5:47 am by Tim Dustrude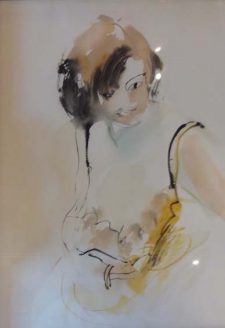 Autumn's blus­tery days and chilly air offer the per­fect oppor­tu­ni­ty to take advan­tage of the many attrac­tions the San Juan Islands Muse­um of Art (SJIMA) has to offer . Espe­cial­ly one cur­rent­ly on dis­play, Going the Dis­tance fea­tur­ing the work of Seat­tle artist, Nola Ahola.
Nola Ahola's art career spans more than six­ty years and this exhib­it is rep­re­sen­ta­tive of the artist's life­time of excep­tion­al artis­tic achieve­ment. The artist and teacher first gained recog­ni­tion for her fig­u­ra­tive art dur­ing the 60's and 70's, while work­ing with live mod­els, cap­tur­ing move­ment and pos­tures with swift brush­strokes in ink. Dur­ing this peri­od, the artist com­plet­ed over 100 large works fea­tur­ing brush draw­ings of dancers, many of which are on dis­play in this show.
Her oth­er works include vivid water­col­or paint­ings and intri­cate, large-scale col­lages; both fig­u­ra­tive and abstract. Sev­er­al of Ahola's water­col­or works as well as her trade­mark col­lages are part of this exhibit.
Aho­la resided on Lopez Island from 1992 until 1999. Much of her work was exhib­it­ed through­out the San Juan Islands dur­ing this time. Also at SJIMA, Fran­cie Allen's On Being Alive show is paired with the cur­rent Go Fig­ure! exhib­it on dis­play until Decem­ber 6, 2021.
Going the Dis­tance is spon­sored by The Hon­ey­well Char­i­ta­ble Fund, Lamar Efaw Inte­ri­ors, Elan Video and Framesmith.
Locat­ed in Fri­day Har­bor at 540 Spring Street, the hours are Fri­day-Mon­day from 11–5. Admis­sion to the whole muse­um is $10, with SJIMA mem­bers and those 18 and under admit­ted free. Mon­days are Pay As You Can Days. For fur­ther infor­ma­tion go to www.sjima.org
You can support the San Juan Update by doing business with our loyal advertisers, and by making a one-time contribution or a recurring donation.