Harbor Life Ring Donations
Posted October 25, 2021 at 5:49 am by Tim Dustrude
Town util­i­ty cus­tomer dona­tions will ben­e­fit local food bank; Town to match Novem­ber con­tri­bu­tions up to $3000.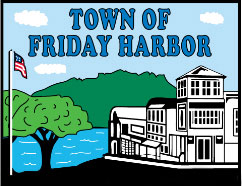 All dona­tions made in Novem­ber to the Town's Har­bor Life Ring util­i­ty assis­tance fund will be for­ward­ed to the Fri­day Har­bor Food Bank. The Town will match com­mu­ni­ty dona­tions up to a total of $3,000. This is an increase of $1,000 over last year's match. Util­i­ty cus­tomers can donate by mark­ing the Har­bor Life Ring line item on their bills that are going out on Novem­ber 1st.
Now in its ninth year, the annu­al Novem­ber con­tri­bu­tion from sup­port­ers of the Har­bor Life Ring pro­gram helps the Food Bank pro­vide for island fam­i­lies dur­ing the hol­i­day sea­son when the need threat­ens to out­weigh the sup­ply. "The need is already high­er than nor­mal and grow­ing," said May­or Farhad Ghatan. "The Town has increased the amount of match­ing funds for the sec­ond year in a row as the ongo­ing pan­dem­ic is putting a tremen­dous strain on our local Food Bank."
Last year, the Food Bank received $5,010 from this annu­al cam­paign, includ­ing $2,000 in Town match­ing funds. Food Bank man­ag­er Rachelle Radon­s­ki says this sig­nif­i­cant­ly improved their abil­i­ty to offer fresh veg­eta­bles and pro­tein. She says they are fund­ed entire­ly through dona­tions and spend over $8,000 each month to serve over 500 house­holds on the island.
The Har­bor Life Ring pro­gram was estab­lished in 2013 to assist fam­i­lies in need of finan­cial relief on their Town util­i­ty bills. The pro­gram is fund­ed through dona­tions that Town cus­tomers add to their month­ly bill payments.
You can support the San Juan Update by doing business with our loyal advertisers, and by making a one-time contribution or a recurring donation.