New Bench for Historical Museum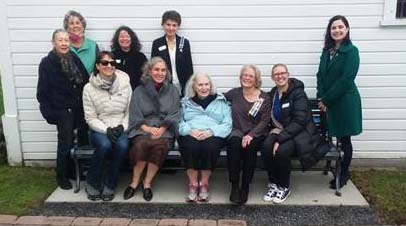 On Saturday, October 23, 2021 Regent Patti Pratt and other members of the San Juan Islands Chapter of the Daughters of the American Revolution dedicated a bench at San Juan Historical Museum. The bench from the Tacoma, WA Foundry, Urban Accessories was purchased by the chapter to honor their Organizing Regent, Elizabeth Rourk Forsman (1910-2008) and is installed next to the old county jail along the brick walkway that leads to the Museum of History and Industry.
The dedication of the bench was the culmination of months of effort by both chapter and community members. Past Regent, Nancy Miller thanked individuals who donated time and materials to the project including Jim Moe Construction for framing and finishing the concrete pad, MEM Construction for donating the concrete, and Kevin Berringer for donating gravel. Other individuals that were integral to the installation were Dale Pratt, Gerry Miller, Rodney Nawn, Michael Olson, Ron Krocker, James Klein and Museum Executive Director, Kevin Loftus.
The bench has already been enjoyed by groups of people who visited the museum over the past month and will provide a resting place for many years into the future.