Island Senior: The Mullis Center, A Family Legacy and Gift to Island Seniors
Posted October 16, 2021 at 5:57 am by Peggy Sue McRae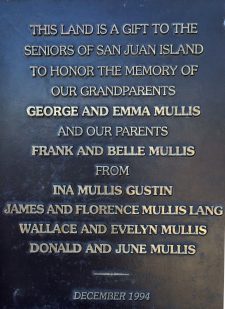 On the out­side of the Mullis Cen­ter build­ing there is a Plaque that reads, This land is a gift to the seniors of San Juan Island to hon­or the mem­o­ry of our grand­par­ents, George and Emma Mullis and our par­ents Frank and Belle Mullis. From Ina Mullis Gustin, James and Flo­rence Mullis Lang, Wal­lace and Eve­lyn Mullis, Don­ald and June Mullis– Decem­ber 1994.
On that same date but one hun­dred years ear­li­er, in Decem­ber of 1894, new res­i­dents of Fri­day Har­bor, George and Emma Mullis, wel­comed their youngest child, Fran­cis, to the fam­i­ly. "Mr. and Mrs. Geo. Mullis, of this city, were the hap­py recip­i­ents of a Christ­mas present in the form of a lit­tle baby girl, who put in her appear­ance the day before Christ­mas." (Islander, 12/27/1894). Fran­cis joined the couple's four oth­er chil­dren, Annie, Ada, Frank, and Ella. Emma and George, both orig­i­nal­ly from the UK, met and mar­ried in Kansas before mov­ing west to San Juan Island.
George Mullis was a skilled crafts­man. He built the his­toric Mullis House on Argyle as well as oth­er his­toric res­i­dences in Fri­day Har­bor. Frank learned the car­pen­try trade from his father. The Mullis women were famous for their hats. Sis­ters Ada and Ella ran the Mil­lenary Shop in Fri­day Harbor.
Belle Wal­lace Mullis played bas­ket­ball for Port Townsend High School in 1907. A few years lat­er she met Frank Mullis when he was stay­ing on the penin­su­la work­ing as a pile dri­ver. They lat­er mar­ried mak­ing their home and rais­ing their fam­i­ly in Fri­day Harbor.
The Mullis prop­er­ty stretched from the res­i­dences on Argyle toward where Mar­ket­place is now. I remem­ber my grandmother's gar­den, granddad's shop, and the pear trees and woods that filled in that space back when that was on the out­skirts of town. Today's Mullis Cen­ter is ide­al­ly locat­ed on a piece of prime Fri­day Har­bor real estate thanks to this gift of land from the Mullis family.
If you are an island senior this gift was giv­en to you. This pre­cious gift how­ev­er requires a cer­tain amount of stew­ard­ship. More than ever, the Mullis Cen­ter needs you to vote this Novem­ber to elect sta­ble, con­sis­tent, and com­pe­tent lead­er­ship to the Mullis Center's Dis­trict Com­mit­tee. Look for a bal­lot in the Novem­ber Senior Sig­nal Newslet­ter or come in per­son to vote at the Mullis Cen­ter on 589 Nash Street. Vot­ing will take place Novem­ber 8 – 11. For fur­ther infor­ma­tion and updates please see the Mullis Cen­ter web­site mulliscenter.org.
You can support the San Juan Update by doing business with our loyal advertisers, and by making a one-time contribution or a recurring donation.