Island Senior: The Mullis Center, A Family Legacy and Gift to Island Seniors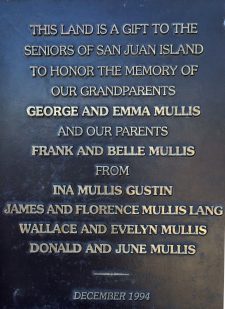 On the outside of the Mullis Center building there is a Plaque that reads, This land is a gift to the seniors of San Juan Island to honor the memory of our grandparents, George and Emma Mullis and our parents Frank and Belle Mullis. From Ina Mullis Gustin, James and Florence Mullis Lang, Wallace and Evelyn Mullis, Donald and June Mullis– December 1994.
On that same date but one hundred years earlier, in December of 1894, new residents of Friday Harbor, George and Emma Mullis, welcomed their youngest child, Francis, to the family. "Mr. and Mrs. Geo. Mullis, of this city, were the happy recipients of a Christmas present in the form of a little baby girl, who put in her appearance the day before Christmas." (Islander, 12/27/1894). Francis joined the couple's four other children, Annie, Ada, Frank, and Ella. Emma and George, both originally from the UK, met and married in Kansas before moving west to San Juan Island.
George Mullis was a skilled craftsman. He built the historic Mullis House on Argyle as well as other historic residences in Friday Harbor. Frank learned the carpentry trade from his father. The Mullis women were famous for their hats. Sisters Ada and Ella ran the Millenary Shop in Friday Harbor.
Belle Wallace Mullis played basketball for Port Townsend High School in 1907. A few years later she met Frank Mullis when he was staying on the peninsula working as a pile driver. They later married making their home and raising their family in Friday Harbor.
The Mullis property stretched from the residences on Argyle toward where Marketplace is now. I remember my grandmother's garden, granddad's shop, and the pear trees and woods that filled in that space back when that was on the outskirts of town. Today's Mullis Center is ideally located on a piece of prime Friday Harbor real estate thanks to this gift of land from the Mullis family.
If you are an island senior this gift was given to you. This precious gift however requires a certain amount of stewardship. More than ever, the Mullis Center needs you to vote this November to elect stable, consistent, and competent leadership to the Mullis Center's District Committee. Look for a ballot in the November Senior Signal Newsletter or come in person to vote at the Mullis Center on 589 Nash Street. Voting will take place November 8 – 11. For further information and updates please see the Mullis Center website mulliscenter.org.