Washington's Plastic Bag Ban Goes Into Effect October 1st
Posted October 1, 2021 at 5:41 am by Tim Dustrude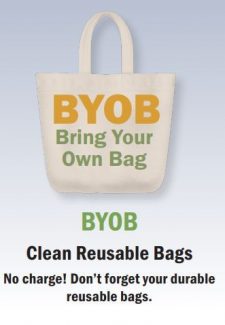 Fol­low­ing a delay due to Covid-19, the Wash­ing­ton Plas­tic Bag Ban (RCW 70A.530) will go into effect statewide on Octo­ber 1, 2021. This means that retail­ers and restau­rants through­out the state will be pro­hib­it­ed from pro­vid­ing sin­gle-use plas­tic car­ry­out bags. As Wash­ing­ton pre­pares for the statewide plas­tic bag ban to take effect, San Juan Coun­ty con­tin­ues to be a region­al leader in pro­mot­ing sus­tain­able alternatives.
In 2016, San Juan Coun­ty passed its own plas­tic bag ordi­nance, one of over 37 Wash­ing­ton cities, towns, and coun­ties to have passed their own plas­tic bag bans since 2009. Despite these mea­sures, every year Wash­ing­to­ni­ans use over 2 bil­lion sin­gle-use plas­tic bags and the aver­age Amer­i­can uses about 500 bags per year.
When the state plas­tic bag ban goes into effect on Oct. 1, 2021, it will effec­tive­ly replace the county's exist­ing plas­tic bag ban. The most sig­nif­i­cant dif­fer­ence for San Juan Coun­ty res­i­dents is that they will see an 8‑cent bag charge on their receipt if they do not use a reusable bag and instead use a paper or thick plas­tic bag pro­vid­ed by the retail­er. These bags must meet spe­cif­ic post-con­sumer recy­cled con­tent and thick­ness require­ments to be allowed for sale under the new ban.
You can support the San Juan Update by doing business with our loyal advertisers, and by making a one-time contribution or a recurring donation.