Washington's Plastic Bag Ban Goes Into Effect October 1st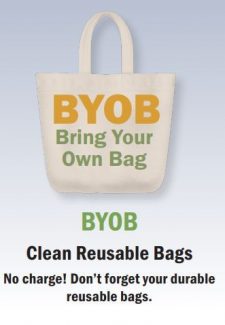 Following a delay due to Covid-19, the Washington Plastic Bag Ban (RCW 70A.530) will go into effect statewide on October 1, 2021. This means that retailers and restaurants throughout the state will be prohibited from providing single-use plastic carryout bags. As Washington prepares for the statewide plastic bag ban to take effect, San Juan County continues to be a regional leader in promoting sustainable alternatives.
In 2016, San Juan County passed its own plastic bag ordinance, one of over 37 Washington cities, towns, and counties to have passed their own plastic bag bans since 2009. Despite these measures, every year Washingtonians use over 2 billion single-use plastic bags and the average American uses about 500 bags per year.
When the state plastic bag ban goes into effect on Oct. 1, 2021, it will effectively replace the county's existing plastic bag ban. The most significant difference for San Juan County residents is that they will see an 8-cent bag charge on their receipt if they do not use a reusable bag and instead use a paper or thick plastic bag provided by the retailer. These bags must meet specific post-consumer recycled content and thickness requirements to be allowed for sale under the new ban.