Difficult Times: Coping with Eco-Anxiety and Exurban Delusion as the Future Darkens
Posted November 23, 2021 at 5:42 am by Tim Dustrude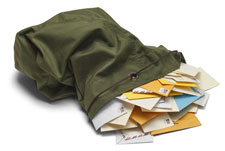 This morn­ing we find a let­ter to you in the San Juan Update Mail­bag from Steve Ulvi…
In the late 1960s, my out­door adven­tures grew grit­ti­er; in wilder land­scapes, great­ly expand­ing on child­hood camp­ing trips. My dom­i­nant inter­ests became nature-cen­tered, access under one's own pow­er. I felt the thrum of the non-human com­mu­ni­ty of life and began to see the shap­ing of deep time in nat­ur­al cathe­drals of for­est, falling waters and weath­ered gran­ite spires. So many sweet spots — all now great­ly dimin­ished — scat­tered through­out the mon­tane west. (The growth of the human swarm in Amer­i­ca; 200 mil­lion in 1967 to 334 mil­lion today).
All of those places of won­der and reju­ve­na­tion, as well as the metas­ta­siz­ing asphalt jun­gle, had been abo­rig­i­nal home­land; sites of spir­i­tu­al renew­al, dis­tinct lan­guage and cul­ture, and sus­te­nance for hun­dreds of invis­i­ble gen­er­a­tions of peo­ple. On the fringes of the hard-used, fog enshroud­ed par­adise of the San Fran­sis­co Bay Area, my sense of being born too late grew.
Like many impres­sion­able north­ern Cal­i­for­nia school-kids I was struck by the trag­ic sto­ry of 'Ishi', who back in 1911 had emerged starv­ing and trem­bling, after an unimag­in­able four decades of hid­ing. He sub­sist­ed alone in the foothills around Mt. Lassen fol­low­ing the final, ruth­less slaugh­ter of his har­ried tribe just after the Civ­il War. I also learned that the last griz­zly bear in the Gold­en State was also hunt­ed down just a few years after 'Ishi' appeared from the past and become a famous, high­ly stud­ied, liv­ing anachro­nism. The extir­pat­ed Griz­zly, from then on, lived only on the State Flag.
As my stud­ies deep­ened, I lived sim­ply among tow­er­ing Dou­glas fir and insis­tent win­ter rain in Ore­gon, I dis­card­ed the fab­ri­cat­ed his­to­ries I had been taught, I began to see all land­scapes through a per­spec­tive of "I want to imag­ine this place as it was before the Euro-Amer­i­can dom­i­na­tion". The life-long itch to live on the fron­tier of times past even­tu­al­ly took over.
It took a leap of faith in ear­ly 1974, with good com­pan­ions, a pick-up load of use­ful stuff, a few hun­dred bucks among us, to set­tle past the end of the road in Inte­ri­or Alas­ka. The North­ern Life — the toil, near dis­as­ters, wildlife encoun­ters, unfor­giv­ing learn­ing curves, pure ela­tion, and increas­ing self-reliance play­ing out between abrupt sea­son­al changes in a win­ter dom­i­nant region — even­tu­al­ly became both the ground­ing rod and well­spring for my beliefs. The last years of "Old Alas­ka" (pre-pipeline and the result­ing mas­sive land own­er­ship trans­fers) felt ele­men­tal and unvar­nished. In 1980, by a strange twist of fate, a career help­ing to estab­lish a huge new nation­al pre­serve just down­riv­er from Eagle in the nation­al inter­est, found me out on the big riv­er. The clock can be metaphor­i­cal­ly "turned back", but change advances inexorably.
I came to often feel the dank breath of the Pleis­tocene, caus­ing me to turn quick­ly to check my back­trail, espe­cial­ly while pok­ing about in the gaunt arc­tic. Some­times alone­ness was like a relent­less heart ache. But exhil­a­ra­tion was a reg­u­lar com­pan­ion. I also came to rec­og­nize, edu­cat­ed by count­less sci­en­tists and many native peo­ple year after year, the advance of tan­gi­ble cli­mate warm­ing 35 years ago, rip­pling through the bore­al for­est and espe­cial­ly Alaska's arc­tic tun­dra region. Creep­ing, com­pound­ing changes; por­tend­ing immense consequences.
Now the heart of my cho­sen home region is this south­ern Sal­ish Sea, once com­pa­ra­ble to the world's rich­est waters in tem­per­ate lat­i­tudes. Sad­ly, it has been blight­ed for over a cen­tu­ry; a tidal toi­let for poi­so­nous indus­tri­al chem­i­cals and waste, wet­lands drained and farmed, cut and run har­vests and riv­er or high­way projects where crit­i­cal neg­a­tive exter­nal­i­ties regard­ing eco­log­i­cal con­nec­tiv­i­ty and native rights of age-old use and occu­pan­cy, were crim­i­nal­ly ignored.
Many gen­er­a­tions of human fish­ers and man­age­ment biol­o­gists have suf­fered stu­pe­fac­tion while fac­ing eco­log­i­cal com­plex­i­ty, the Big Lie of Hatch­ery Sal­va­tion and legions of growth-mon­ger­ing politi­cians in col­lu­sion with devel­op­ers. The lat­ter, as always, seemed to have under­stood the cost of every­thing and the val­ue of noth­ing. Even today, every one of us suf­fers from the post-mod­ern con­fu­sion of the "tragedy of the com­mons" and "slid­ing base­line syn­drome", blind­ing us from respect­ing cau­tion­ary prin­ci­ples. Gov­ern­ment, as a bul­wark against rapa­cious cap­i­tal­ism, has failed at near­ly every turn.
This sum­mer, local salmon anglers had the door slammed on July 8th by fed­er­al and state man­agers strug­gling to pro­tect endan­gered chi­nook stocks. Our waters are a sum­mer mix­ing zone for salmonids that three pods of Black­fish have depend­ed upon for­ev­er. Coin­ci­den­tal­ly, our plen­ti­ful Black Tail deer, many stressed and unhealthy, have been swept away by a high­ly con­ta­gious ade­n­ovirus hem­or­rhag­ic dis­ease (and vehi­cle bumpers) over the past two years. Per­haps the promis­ing com­mu­ni­ty meet­ings explor­ing ways to increase hunter har­vest and decrease mis­guid­ed feed­ing and pet­ting zoo atti­tudes, will car­ry for­ward in our next deer eruption.
My great­est anguish has been the dec­i­ma­tion of robust pacif­ic salmon stocks; in cyclic hordes for some 5,000,000 years like red blood cells cir­cu­lat­ing to ener­gize hun­dreds of thou­sands of miles of water lap­ping land­scape edges. Scores of genet­i­cal­ly and sea­son­ably sep­a­rate 'tribes' or dis­tinct stocks; the divine fine-tun­ing of evo­lu­tion play­ing out over unfath­omable eons. They always surge home­ward, fol­low­ing faint odors in impos­si­bly long jour­neys, to re-cre­ate then to suc­cumb, return­ing to the Cos­mos the ele­ments that were tem­porar­i­ly bor­rowed from that very place for birth and a migrant life. Bil­lions of salmon bod­ies ener­gized soil, roots and liv­ing flesh of vast ecosys­tems, includ­ing dis­tant uplands, with their rich flesh and ocean­ic min­er­als. They over­came or adapt­ed to bib­li­cal floods and ice bar­ri­ers again and again, through inter­minable glacial cycles across the north­west­ern expanse of a con­ti­nent. But they can­not adapt to our onslaught.
In just over 100 years, a sin­gle cen­tu­ry, a moment in eco­log­i­cal time, we have fool­ish­ly near­ly destroyed the salmon that pre­dictably nour­ished first nation's peo­ples, num­ber­ing in the mil­lions, for well over 10,000 years. As fore­told by cli­mate sci­ence, these damn­ing trends for salmon are wors­en­ing — from birth grav­els, to rivers, to estu­ar­ies, to the ocean deep – the result of dele­te­ri­ous impacts of warm­ing mass­es of air and waters of the north Pacif­ic gyre. Even Yukon Riv­er sum­mer chi­nook, once so pre­cious to my fam­i­ly liv­ing 1,250 miles from the sea, are dec­i­mat­ed. Now, salmon as a sus­tain­able source of fab­u­lous pro­tein, annu­al ecosys­tem enrich­ment, tourism and jobs are severe­ly dimin­ished here just as we des­per­ate­ly need them most.
Being of uncom­mon­ly mobile gen­er­a­tions, most of us came here from some­where else. Increas­ing­ly, immi­grants seek a reprieve from urban expans­es of con­crete, angry social unrest, long term drought or vora­cious for­est blazes. Many migrants seem to be gob-smacked by a bucol­ic beau­ty of this lands' end while fail­ing to under­stand the cas­cad­ing decline of altered and sick­ly ecosys­tems. Sad­ly, we hear the phras­es indica­tive of exur­ban delu­sion; this eye-pleas­ing arch­i­pel­ago, salt chuck and land, is imag­ined to be "pris­tine", "rich", and even "wild". Yet those ele­men­tal states of nature no longer exist out here.
The fate of res­i­dent Black­fish, an extra­or­di­nary apex beast, is now near­ly fixed just as Plains Buf­fa­lo, Pas­sen­ger Pigeons and species ad nau­se­um erased ear­li­er in our Anthro­pocene ram­page. Their unsur­pris­ing plight gen­er­ates intense sci­en­tif­ic scruti­ny and most­ly super­fi­cial pub­lic angst. Many scores of non-prof­its and gov­ern­men­tal task forces thrive on the pipelines of mon­ey, chas­ing an unat­tain­able mir­a­cle and grasp­ing at straws of pos­i­tive news. Dozens of com­mer­cial­ly oper­at­ed boats cir­cling a few Black­fish and stu­pid recre­ation­al skip­pers refus­ing to give way to pod's trav­el direc­tion, were a very com­mon sight until recently.
The Endan­gered Species and Marine Mam­mal Pro­tec­tion Acts in the 1970s pre­vent­ed fur­ther out­right killing and cap­ture, but agen­cies have burned a hel­lu­va lot of tax mon­ey since to fail mis­er­ably at enforc­ing crit­i­cal habi­tat pro­tec­tion for the SRKW in their his­toric sum­mer grounds. Said to be the most stud­ied cetaceans in the world, we will cer­tain­ly be able to com­pose a fine­ly detailed, if sor­row­ful, obit­u­ary. How about just leav­ing this long-suf­fer­ing Black­fish cul­ture – south­ern salmon eaters — alone to adapt, die or migrate away with some dignity?
Many say that this place is a spe­cial "Geog­ra­phy of Hope" (ala Wal­lace Steg­n­er). Actu­al­ly, it feels like a tiny (but feisty), most­ly pro­gres­sive enclave of white ex-urban­ites sur­round­ed by a pro­tec­tive moat, with­in a vast trans-bor­der mar­itime region that is burst­ing at the seams. Our sea mar­gins here are on track to increase in pop­u­la­tion to at least 10 mil­lion, prob­a­bly more, by 2050.
An obvi­ous­ly frag­ile cir­cum­stance. Sup­plies, elec­tric­i­ty, food­stuffs and fuel are on the brink of surg­ing cost increas­es (car­bon fees and util­i­ty rates) and unpre­dictable deliv­ery sys­tem fail­ures. Simul­ta­ne­ous­ly, we will have to adjust, again and again, to con­flict­ing pen­du­lum swings of belat­ed gov­ern­ment actions to avoid a sear­ing dis­as­ter of cli­mate warm­ing lat­er on. Pol­i­tics has descend­ed to the lev­el of Russ­ian Roulette.
Pub­lic health will be a crit­i­cal aspect of altered cli­mat­ic regimes. Our slow nation­al actions and con­vo­lut­ed social reac­tions to COVID 19, an endem­ic virus now, are indica­tive of just how chal­leng­ing com­pound­ing impacts will be as the glob­al dra­ma unfolds. In the Amer­i­can far west, life­ways and aspi­ra­tions, the dreams of all those who come after us, will be noth­ing like what ear­li­er gen­er­a­tions were blessed with. But bor­row­ing heav­i­ly from the future was always the Amer­i­can way.
For bet­ter or worse, back­wa­ter places like this will be large­ly on their own, while emer­gency reac­tions and nation­al tech­no­log­i­cal mobi­liza­tion (like in WWII) will dom­i­nate pol­i­tics and eco­nom­ic sec­tors. It is not promis­ing that our nation has been balka­niz­ing into regions of dis­tinct­ly dif­fer­ent beliefs, social val­ues and diver­gent inter­pre­ta­tions of the US Constitution.
But giv­en our proud sense of place and strength of com­mu­ni­ty, we can bend the arc of our his­to­ry toward a more sus­tain­able future. Hap­pi­ly, we are pro­found­ly for­tu­nate to have so many tal­ent­ed minds and col­lec­tive wealth. As a result of our geo­graph­ic bless­ings the cen­tral issues of cli­mate cri­sis for the North­west – decreas­ing snow pack, sea lev­el rise and wild­fires – are not so crit­i­cal for us. But clear­ly, we've got to cut through a fog of hap­py talk and iner­tia. Soon.
Mean­ing­ful lim­its to pop­u­la­tion growth, con­ser­va­tion of water, enrich­ment of as much pro­duc­tive land as pos­si­ble, build­ing hun­dreds of units of per­ma­nent­ly afford­able hous­ing and robust eco­nom­ic diver­si­fi­ca­tion are essen­tial for any hope of secu­ri­ty and flex­i­bil­i­ty lead­ing to com­mu­ni­ty resilience in the rough and tum­ble ahead. The ongo­ing, painstak­ing update of the Com­pre­hen­sive Plan 2036 could serve as the nec­es­sary roadmap. Our Coun­ty Land Con­ser­va­tion efforts, won­der­ful­ly suc­cess­ful, could pro­vide parcels key to cli­mate cri­sis adap­ta­tion, C02 mit­i­ga­tion and greater eco­nom­ic self-reliance. A new Cli­mate and Sus­tain­abil­i­ty Advi­so­ry coun­cil is being formed by the Depart­ment of Envi­ron­men­tal Stew­ard­ship, and cre­at­ing a Cli­mate Action Plan is essen­tial. But how many res­i­dents, newish like me or old island fam­i­lies, care enough to edu­cate them­selves, speak up, become involved, make some sac­ri­fices and set aside pet­ty dif­fer­ences to stand togeth­er to avoid the worst out­comes spin­ning off of a dan­ger­ous future?
You can support the San Juan Update by doing business with our loyal advertisers, and by making a one-time contribution or a recurring donation.