San Juan EMS Hosts a Traditional "Push-In" Ceremony
Posted November 23, 2021 at 5:45 am by Tim Dustrude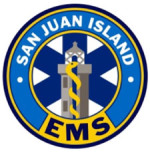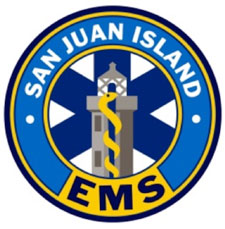 On Novem­ber 10th, 2021, San Juan Island Emer­gency Med­ical Ser­vices cel­e­brat­ed the addi­tion of a new ambu­lance to their fleet by host­ing a push-in cer­e­mo­ny. Mem­bers of the pub­lic, press, and Hos­pi­tal Dis­trict Board were invit­ed to assist EMS employ­ees and vol­un­teers in a tra­di­tion­al "push-in" cer­e­mo­ny and cel­e­brate the ben­e­fits the new ambu­lance will bring to the island. The new ambu­lance will replace one of San Juan EMS's old­er vehi­cles, which has been sold to fire sta­tion Skag­it 13, locat­ed near La Con­ner, WA.
A tra­di­tion­al "push-in" cer­e­mo­ny is when a new emer­gency ser­vices vehi­cle is pushed into the sta­tion by hand to mark it ready for pub­lic ser­vice. The "push-in" tra­di­tion began in the 1800s when fire­fight­ers would move a car­riage back into the sta­tion by hand once the fire­fight­ers had unhooked the hors­es. It is recre­at­ed today to respect the past and hon­or the hum­ble begin­nings of emer­gency service.
The new ambu­lance will be the first at San Juan EMS equipped with four-wheel-dri­ve, Liq­uid­Spring shock absorbers, and zero-emis­sions tech­nol­o­gy. The inno­v­a­tive fea­tures of the new ambu­lance will help Medics and EMTs pro­vide high­er qual­i­ty patient care to San Juan Island res­i­dents and visitors.
This ambu­lance marks a leap for­ward in tech­no­log­i­cal advance­ments and safe­ty — a stan­dard that San Juan EMS expects to car­ry into 2022 through a mul­ti­tude of dif­fer­ent projects and objectives.
You can support the San Juan Update by doing business with our loyal advertisers, and by making a one-time contribution or a recurring donation.