Letter about Mullis Center Election
Posted November 2, 2021 at 5:40 am by Tim Dustrude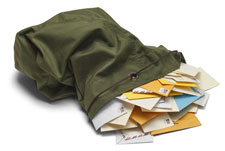 In today's mail­bag, Bon­nie Sliger shares this with you…
My name is Bon­nie Sliger and I am run­ning for a posi­tion on the Mullis Cen­ter Dis­trict Com­mit­tee. If you are 60 and over or are dis­abled, and live in the San Juan Dis­trict, please be sure to vote Novem­ber 8th thru 11th at the Mullis Cen­ter or by mail. https://www.mulliscenter.org/howtovote
I have been involved with the Mullis Cen­ter for 20+ years and the Cen­ter is very dear to my heart. Please con­sid­er my rec­om­men­da­tions for the Dis­trict Committee:
Cur­rent Chair­per­son: Stephen Shu­bert. Along with this posi­tion, Stephen serves as San Juan Island Rep­re­sen­ta­tive to the North­west Region­al Coun­cil (for seniors) attend­ing off island meet­ings. He also deliv­ers home deliv­ered meals. Dur­ing the last 2 years, Stephen has com­plete­ly restruc­tured the Mullis account­ing sys­tem, work­ing along with the CPA, Orcas and Lopez, so all three islands are report­ing under the same 501©3 and using the same chart of accounts. No small feat! Please re-elect Stephen.
Cur­rent Sec­re­tary: Nan­cy Geist. Nan­cy is an invalu­able vol­un­teer. She works in the office, is the assis­tant cook for What­com Nutri­tion (paid posi­tion), han­dles the mem­ber­ship for the Cen­ter and pret­ty much any­thing else that no one wants to do. Nan­cy was also Vol­un­teer of the Year for 2019. Please re-elect Nan­cy Geist.
Cur­rent Trea­sur­er: Pat­ty Bright­man. Pat­ty took over this posi­tion when the cur­rent Trea­sur­er had to step down for health rea­sons. Please re-elect Patty.
Oth­er cur­rent Com­mit­tee Mem­bers: Mar­ty Huleat­te, Ter­ry Sanders and Den­nis Busse. Please re-elect Mar­ty, Ter­ry and Dennis.
I would also like to rec­om­mend Clay­ton Ban­ry, David Bay­ley, Alice Deane, Nan­cy DeVaux, Beth Hel­stien, Lin­da Chowdry, Susan Maz­zarel­la, Nadine Sul­li­van and myself, Bon­nie Sliger.
The last 2 years have been extreme­ly try­ing for the Mullis Cen­ter and our seniors. I look for­ward to return­ing to the in per­son week­ly lunch­es and oth­er nor­mal activ­i­ties offered to our seniors and the disabled.
Respect­ful­ly submitted,
Bon­nie Sliger
You can support the San Juan Update by doing business with our loyal advertisers, and by making a one-time contribution or a recurring donation.