Unexpected Success
Posted November 2, 2021 at 5:44 am by Tim Dustrude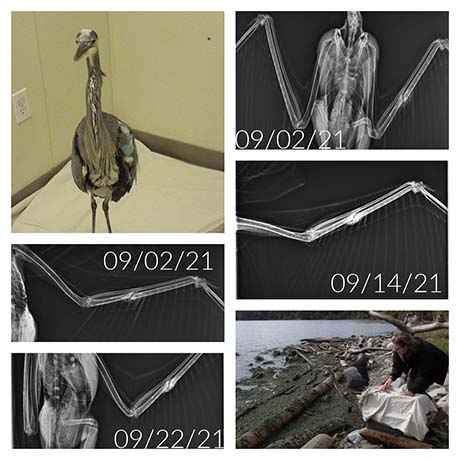 Wolf Hol­low shares this sto­ry of a Great Blue Heron they took care of in September…
Our most notable patient in Sep­tem­ber was a Great Blue Heron. This adult heron arrived near the begin­ning of the month, thin and unable to fly. When we did an intake exam and took radi­ographs, we dis­cov­ered that the ulna of the left wing was broken.
Luck­i­ly the break was in the mid­dle of the bone, not near a joint, and the pieces were not touch­ing the radius, the oth­er long bone in the out­er part of the wing. When we con­sult­ed our vet, Dr. Besel, she agreed that the injury was an excel­lent can­di­date for surgery, so the next day the heron went off to the vets. When Dr. Besel began the surgery, she found that the ulna was already repair­ing itself, had bridged the two pieces of bone, and was sta­bi­liz­ing. She stitched the heron back up, put on a wing wrap and sent the bird back to us for care.
We con­tin­ued to keep the wing wrapped, did phys­i­cal ther­a­py every oth­er day for a week then took more radi­ographs. We were con­cerned because it looked like the cal­ci­fy­ing bone may be bridg­ing over to the radius, which would mean that the bones would fuse, the bird would be unable to rotate that part of its wing and wouldn't be able to fly. How­ev­er, a week lat­er, the next radi­ograph showed that the two bones were remain­ing sep­a­rate, and the break was heal­ing well. We moved the heron out­side for some stretch­ing room and soon it was demon­strat­ing great fly­ing skills in our larg­er enclosures.
You can support the San Juan Update by doing business with our loyal advertisers, and by making a one-time contribution or a recurring donation.