Curious Minds
Posted December 7, 2021 at 5:46 am by Tim Dustrude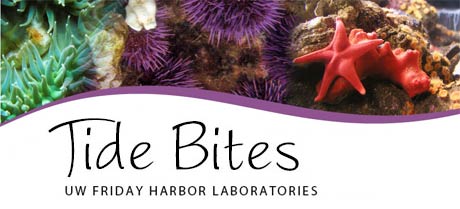 This arti­cle writ­ten by Dominic Sivitilli…
The lab was buzzing with excite­ment when I arrived. A few weeks into the sum­mer term, the water tables of Lab 3 were teem­ing with inver­te­brate life. All vari­eties of mor­phol­o­gy and behav­ior were on dis­play for our class to study. But some­thing was dif­fer­ent today: the lab had a new arrival. I was an under­grad­u­ate on my first vis­it to FHL in the sum­mer of 2013. While my focus at the time was ani­mal behav­ior, my expe­ri­ence with inver­te­brates was lim­it­ed. I took the oppor­tu­ni­ty to delve into inver­te­brate diver­si­ty by enrolling in Marine Inver­te­brate Zoology.
Shaped timid­ly into the cor­ner of a crit­ter con­tain­er was a Pacif­ic red octo­pus (Fig­ure 1). There she wait­ed, immo­bile but for a slight bob of her head, as she cau­tious­ly eyed those of us peer­ing down at her. When the activ­i­ty of the lab died down, she care­ful­ly felt her way around with her long, flex­i­ble arms. Her body rapid­ly shift­ed col­or when she was alert­ed to move­ment. She appeared to become inter­est­ed in activ­i­ty hap­pen­ing around her, but remained cautious.
You can support the San Juan Update by doing business with our loyal advertisers, and by making a one-time contribution or a recurring donation.