Chardonnay Shopping in Friday Harbor on December 9th
Posted December 7, 2021 at 12:50 pm by Tim Dustrude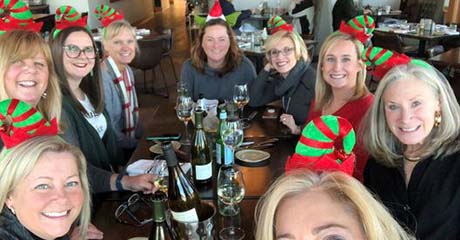 The Chardon­nay Shop­pers are com­ing and invite you to join them…
Bring your masks, your wal­let and join the fun.
To the many new res­i­dents on the island, Chardon­nay Shop­ping is an annu­al event where we shop on a spe­cif­ic day to sup­port our local busi­ness­es and restau­rants. Most of the busi­ness­es and restau­rants entice shop­pers with spe­cial dis­counts, extend­ed hours, or draw­ings with pur­chase. Some even offer snacks and beverages.
On our Face­book Page, "Chardon­nay Shop­ping 2021″, we will post the offer­ings from the retail­ers so you can plan your sched­ule on the town for your shop­ping needs.
Many peo­ple get a small group togeth­er and wear fun hol­i­day hats or some­thing fes­tive to iden­ti­fy them­selves as Chardon­nay Shop­pers. Some choose to start in the morn­ing and then go to lunch at their favorite restau­rant and then con­tin­ue shop­ping. We all meet at Haleys at 1:00 to ral­ly and of course, have a glass of chardonnay.
We need help spread­ing the word so please share this infor­ma­tion or share the Face­book page so we can get as many shop­pers to par­tic­i­pate as possible.
Hope to see you around town on the 9th.
You can support the San Juan Update by doing business with our loyal advertisers, and by making a one-time contribution or a recurring donation.