Weekly Covid Case Update
Posted December 31, 2021 at 4:49 pm by Tim Dustrude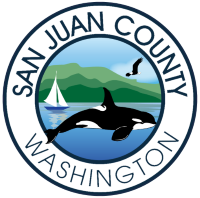 NOTE: the sit­u­a­tion is chang­ing quick­ly and cas­es are increas­ing. This will be a long update, but please read the entire doc­u­ment. There are a num­ber of crit­i­cal details that it is impor­tant the com­mu­ni­ty be aware of. Thank you!
Since the last update on Fri­day Decem­ber 24th, there have been 54 new con­firmed or prob­a­ble cas­es in San Juan Coun­ty. Cur­rent case count is now 533.
There are approx­i­mate­ly sev­en unvac­ci­nat­ed close con­tacts of pos­i­tive cas­es cur­rent­ly in quar­an­tine in the islands.
Lopez Island: There is one new case on Lopez Island since the last update. There are four pos­i­tive cas­es under active mon­i­tor­ing on Lopez Island at this time.
Orcas Island: There are forty-six new cas­es on Orcas Island since the last update. There are forty-four pos­i­tive cas­es under active mon­i­tor­ing on Orcas Island. Approx­i­mate­ly thir­ty-one of these new cas­es are tied in some way to the ongo­ing out­break, includ­ing some sus­pect­ed ter­tiary con­tacts (peo­ple infect­ed by peo­ple who were infect­ed by peo­ple who were at the orig­i­nal event).
San Juan Island: There are sev­en new cas­es on San Juan Island since the last update. There are eight pos­i­tive cas­es under active mon­i­tor­ing on San Juan Island at this time.
Over­all Picture:
Clear­ly there has been a surge in the num­ber of infec­tions. The expec­ta­tion is that this increase will accel­er­ate rapid­ly over the next cou­ple of weeks across all islands. Case num­bers nation­al­ly, and for WA State over­all, are spik­ing dra­mat­i­cal­ly. A num­ber of WA Coun­ties are see­ing their largest case num­bers to date.
There is some good news:
San Juan County's high vac­ci­na­tion and boost­er rates mean that the islands are in a bet­ter posi­tion to weath­er the impact from the Omi­cron vari­ant than near­ly any­where else in the world. While being ful­ly vac­ci­nat­ed may offer less pro­tec­tion against infec­tion that ear­li­er strains, vac­ci­na­tion does offer a very high lev­el of pro­tec­tion against seri­ous ill­ness, hos­pi­tal­iza­tion, and death.
Ear­ly data sug­gests that the Omi­cron strain may be less severe than ear­li­er ver­sions of the dis­ease. Though its high degree of infec­tious­ness means that a large num­ber of unvac­ci­nat­ed indi­vid­u­als will like­ly become severe­ly ill in the weeks to come (putting sig­nif­i­cant strain on our health­care sys­tems), Omi­cron is poten­tial­ly a major step towards a ver­sion of COVID that is much eas­i­er to live with over the long term.
While it is too soon to know for sure, it appears that the Omi­cron surge is like­ly to decline on the back end near­ly as quick­ly as it ramps up. Pre­dict­ing the future when it comes to COVID is a bit of a risky propo­si­tion, but it does appear that this impend­ing spike of cas­es may be over rel­a­tive­ly quickly.
Some crit­i­cal things to keep in mind:
Get­ting vac­ci­nat­ed is vital, and you don't need to be ful­ly vac­ci­nat­ed to obtain sig­nif­i­cant pro­tec­tion. Just get­ting your first shot imme­di­ate­ly dra­mat­i­cal­ly decreas­es your chances of becom­ing seri­ous­ly ill. Talk to your local med­ical provider about get­ting your shot, or reg­is­ter for an upcom­ing vac­cine clin­ic at: https://www.sanjuanco.com/1737/COVID-Vaccine-Info
Face cov­er­ings: cloth masks offer far less pro­tec­tion than oth­er kids of masks. Wear­ing a N‑95 or KN-95 is the gold stan­dard. KN-95 masks are cur­rent­ly avail­able com­mer­cial­ly. Your next best option is to wear a paper mask with a cloth mask over it. Any­one work­ing in an envi­ron­ment with a high degree of con­tact with the pub­lic should be wear­ing more than a sim­ple cloth mask.
Test­ing: giv­en the enor­mous spike in cas­es across the Unit­ed State, access to test­ing is becom­ing extreme­ly lim­it­ed. Islanders may become ill and be unable to con­firm whether they have COVID. Giv­en the impend­ing surge in cas­es, any­one expe­ri­enc­ing COVID-like symp­toms should assume they have COVID and iso­late them­selves from oth­ers appro­pri­ate­ly. The Coun­ty and some local providers are active­ly work­ing to secure a large sup­ply of tests. More infor­ma­tion will be made avail­able as that effort evolves.
When sick: for the vast major­i­ty of peo­ple, espe­cial­ly those who are ful­ly vac­ci­nat­ed (includ­ing a boost­er shot), the new COVID vari­ant will be expe­ri­enced as a bad cold. How­ev­er, some unvac­ci­nat­ed or high-risk indi­vid­u­als may devel­op more severe ill­ness. Here's what to look for:
A.) For many peo­ple who devel­op severe COVID, their symp­toms wors­en on day 7, 8, or 9 after ini­tial symp­tom onset. Symp­toms may be quite mild for a num­ber of days, and then dete­ri­o­rate quickly.
B.) Pulse oxime­ters are avail­able com­mer­cial­ly (for about $20–30) and are the sin­gle most effec­tive tool for mon­i­tor­ing your con­di­tion. If pulse oxime­ter read­ing drops below 94%, call your doc­tor, if it drops below 90%, call 911.
C.) COVID infec­tion may cause a range of symp­toms, and any­one who feels their con­di­tion is wors­en­ing or becom­ing con­cern­ing should reach out to their health­care provider but increas­ing short­ness of breath and/or chest pain are clear signs of need­ing med­ical evaluation.
Stay home when you're sick. Please don't go to work, social­ize with oth­ers, or go to school if you're expe­ri­enc­ing symp­toms, no mat­ter how mild. Most out­breaks begin when peo­ple ignore symp­toms that seem rel­a­tive­ly benign.
Omi­cron spreads VERY eas­i­ly. We had numer­ous sit­u­a­tions ear­li­er in pan­dem­ic where a fam­i­ly mem­ber would be infect­ed, but their fam­i­ly did not get the dis­ease. We are now see­ing that hav­ing one infect­ed per­son almost always leads to the entire house­hold becom­ing ill. Pro­tect­ing those we care about most requires a high­er lev­el of atten­tion. Now is not the time for New Year's par­ties or oth­er unmasked indoor events.
Know that as case num­bers rise, the Health Depart­ment will not have the staff to care­ful­ly con­tact trace, inform, and mon­i­tor every infect­ed islander. We all need to under­stand that if we're sick and know or sus­pect we have COVID that we need to stay home, min­i­mize our expo­sure to oth­ers, and make good deci­sions. We can con­sid­er our­selves no longer infec­tious ten days after our symp­toms start­ed, or five days after symp­tom onset if we test neg­a­tive on day five or lat­er. If we do need to go out dur­ing our infec­tious peri­od, MASK UP (see #2 above!) and make every effort to pro­tect those around you and avoid expos­ing others.
It is too soon to know how much strain this new surge will place on our health­care sys­tems, but it is almost cer­tain to affect access to care to some degree, and per­haps will lead to major reduc­tions in ser­vice. Islanders need to under­stand that access to both rou­tine and crit­i­cal care may be lim­it­ed or unavail­able in the weeks to come.
Real­i­ty Check:
Many of us will come down with COVID and that's scary. We've been work­ing so hard to keep it at bay, this new vari­ant is spread­ing wild­ly, and the idea of being infect­ed is very uncom­fort­able. But we need to keep in mind that if we're vac­ci­nat­ed and being thought­ful about our inter­ac­tions with oth­ers, there is a very high chance that our COVID infec­tion will be mild and be over with­out inci­dent. There is no need to pan­ic. Calm, thought­ful, com­pas­sion­ate care for our­selves and each oth­er will con­tin­ue to see us through.
And with any luck 2022 will see us to the end of this roller coast­er ride. Hap­py New Year islanders!
You can support the San Juan Update by doing business with our loyal advertisers, and by making a one-time contribution or a recurring donation.