Proactive responses from neighbors and County prevent road collapse near Eagle Cove
Posted February 15, 2022 at 2:16 pm by Jeff Arnim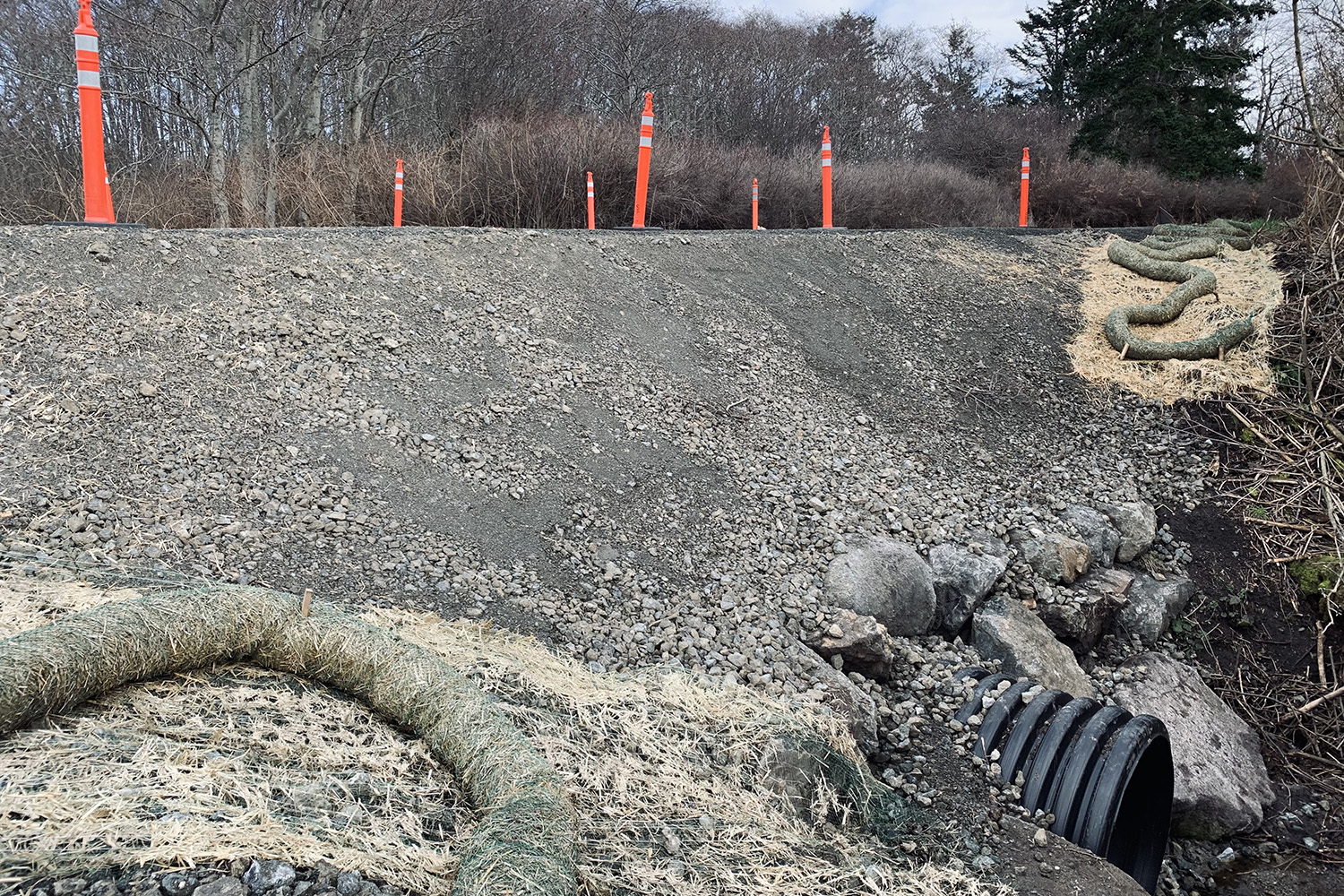 Thanks to some obser­vant neigh­bors and a prompt response from the San Juan Coun­ty Pub­lic Works depart­ment, a road col­lapse along Eagle Cove Road was avoid­ed last month, and the fail­ing cul­vert at the heart of the prob­lem was replaced.
"It's always bet­ter to get at these things before they col­lapse," Pub­lic Works Direc­tor Col­in Hunte­mer told the Coun­ty Coun­cil at a Jan. 25 meet­ing dis­cussing the project. "I'm real­ly thank­ful that mem­bers of the com­mu­ni­ty brought this to our atten­tion. We're not every­where all the time, so we rely on that addi­tion­al help from the com­mu­ni­ty when prob­lems arise."
Fol­low­ing the report of a slump along the road, an inspec­tion by Pub­lic Works con­clud­ed that the area around the cul­vert would like­ly con­tin­ue to dete­ri­o­rate, putting the road at risk of immi­nent failure.
Coun­ty Man­ag­er Mike Thomas deter­mined that the sit­u­a­tion qual­i­fied as an emer­gency, allow­ing the Coun­ty to waive com­pet­i­tive bid­ding require­ments and imme­di­ate­ly start coor­di­nat­ing repairs. In doing so, the Coun­ty avoid­ed poten­tial pub­lic safe­ty issues and pre­vent­ed the road and the hill­side around it from wash­ing down the adja­cent ravine, dam­ag­ing both pub­lic and pri­vate property.
M.E.M. Enter­pris­es com­plet­ed the cul­vert and road work four days after the prob­lem was first report­ed, at a cost of rough­ly $120,000.
The repaired sec­tion of Eagle Cove Road remains grav­el sur­faced, with cones mark­ing the road­'s edge.
"We expect the road to be repaved this fall," Hunte­mer says. "In the com­ing months, engi­neer­ing staff will eval­u­ate the need for a traf­fic bar­ri­er. The cones will stay in place until a deci­sion is made about the need for a bar­ri­er. It is unlike­ly a deci­sion will be made before the road is paved."
You can support the San Juan Update by doing business with our loyal advertisers, and by making a one-time contribution or a recurring donation.