Guard Street closed on Saturday for live fire training
Posted March 25, 2022 at 7:12 pm by San Juan Update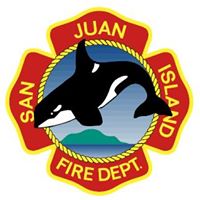 San Juan Island Fire & Res­cue sends along an impor­tant note about live fire train­ing tak­ing place in town on Saturday.
On Sat­ur­day, March 26, Guard Street in the town of Fri­day Har­bor will be closed to all traf­fic (except for adja­cent res­i­dents) between Tuck­er Avenue and Mar­guerite Street from 8:30 am until 5:30 p.m. for a live fire train­ing for fire and res­cue crews from San Juan, Orcas and Lopez Islands.
The live fire train­ing will be con­duct­ed at a res­i­den­tial struc­ture in a con­trolled safe­ty burn. This burn will be used for the islands' fire acad­e­my, host­ed by San Juan Island Fire & Res­cue. Addi­tion­al­ly, the res­i­den­tial struc­ture will be used for trained fire­fight­ers from the three depart­ments to accom­plish state man­dat­ed live fire training.
Dur­ing the week­end, smoke will be clear­ly vis­i­ble at dif­fer­ent times. The struc­ture has had all haz­ardous mate­ri­als removed, and has been exam­ined and cleared through onsite safe­ty inspec­tions, allow­ing the sched­uled train­ing to proceed.
Please respect the estab­lished safe­ty zones around the fire train­ing area and do not attempt to walk onto the site. All fire scenes are dan­ger­ous due to loud noise, mov­ing vehi­cles and equip­ment, as well as smoke. One side­walk on Guard Street will be open, but sub­ject to tem­po­rary clo­sures depend­ing on weath­er con­di­tions impact­ing smoke drift.
We appre­ci­ate everyone's patience and coop­er­a­tion dur­ing this impor­tant train­ing. Live fire train­ing at this struc­ture saves all three agen­cies sig­nif­i­cant mon­ey by allow­ing crews to accom­plish state man­dat­ed train­ing and skills with­out trav­el to the state fire train­ing facil­i­ty in North Bend.
You can support the San Juan Update by doing business with our loyal advertisers, and by making a one-time contribution or a recurring donation.