It's good to be Soot
Posted March 8, 2022 at 2:21 pm by Jeff Arnim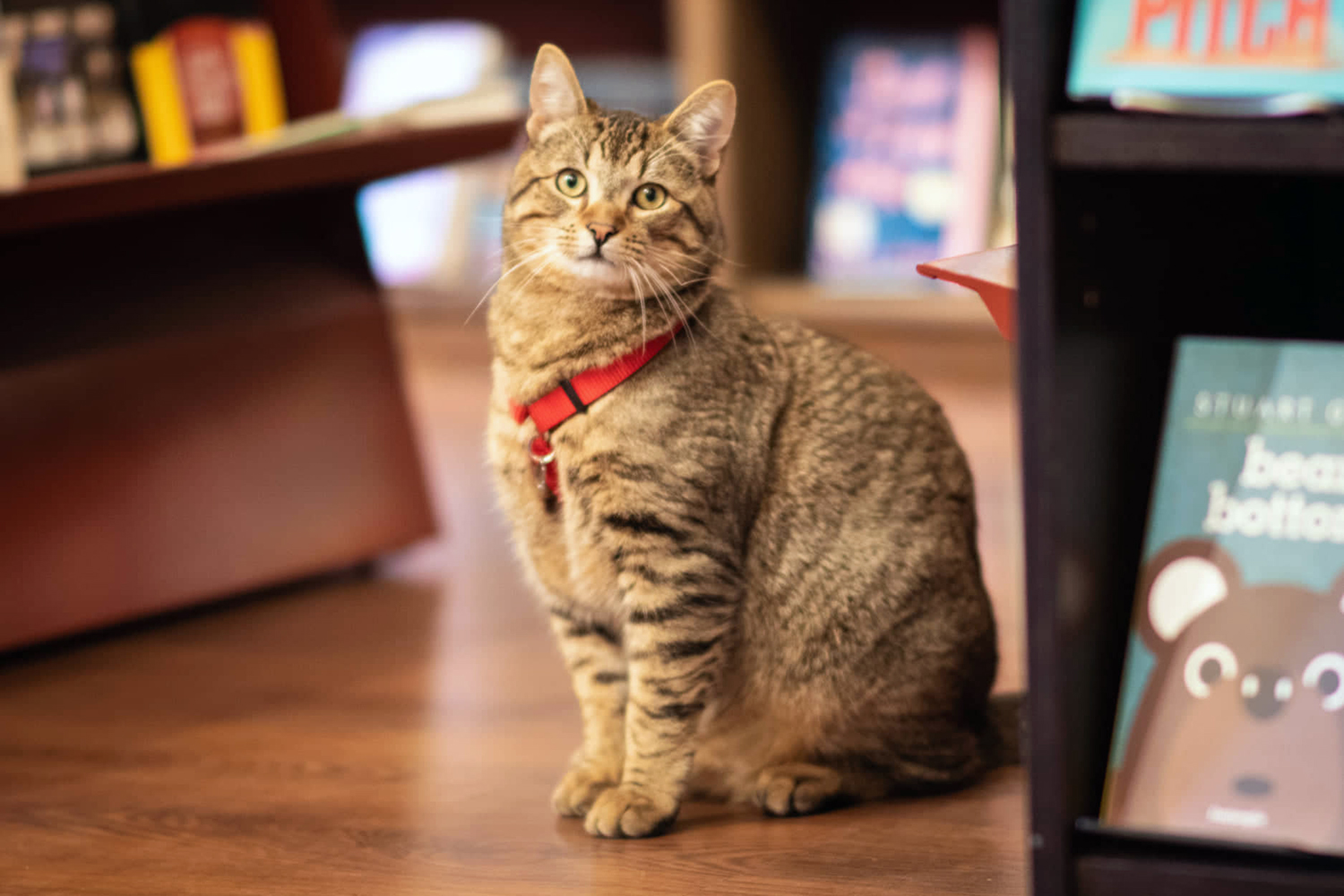 Liv­ing on a boat. Reg­u­lar­ly speed­ing across the har­bor in a skiff. Work­ing part-time at Grif­fin Bay Book­store. Tak­ing relaxed walks through the streets and parks of Fri­day Har­bor. Sail­ing to the out­er islands for an after­noon hike. Sleep­ing sound­ly next to your favorite per­son each night.
It's the kind of life to which many Islanders would aspire.
For Soot the cat, it's just life.
Born last year in Moses Lake, Wash­ing­ton, adven­ture has been Soot's des­tiny since he was three days old. McK­ay­la Bow­er, his care­tak­er, lives aboard a 30-foot sail­boat in Fri­day Har­bor, and had rebuilt the inte­ri­or of the boat last win­ter with a cat in mind, pur­pose­ly block­ing off areas where a fur­ry friend might find itself too cold, too wet, or too dirty.
But while the boat was ready to go, McK­ay­la had been wait­ing to find the com­pan­ion who would call it home. That changed with a time­ly call to a friend last April.
"I hap­pened to tell him that I was look­ing for a kit­ten for my boat," McK­ay­la says. "He was lit­er­al­ly the first per­son I men­tioned it to. And he hap­pened to say, 'One of my best friends had a lit­ter of kit­tens three days ago!'"
Soot's fos­ter fam­i­ly helped pre­pare him for an out­doors life on McKayla's behalf soon after, start­ing har­ness train­ing when he was only two weeks old.
"As soon as he could walk, they cut up a sock and some lit­tle arm holes, so he got used to hav­ing some­thing on him."
Soot – a Savan­nah-Ben­gal mix – arrived in Fri­day Har­bor two months lat­er, where the struc­ture and rhythm of his life changed dra­mat­i­cal­ly. Instead of liv­ing on land, home was now a sail­boat sway­ing in the wake from fer­ry boats enter­ing and leav­ing the har­bor. Where the ani­mals out­side were once dogs and oth­er cats, now they were seals and otters and seabirds. He had to learn to trav­el by dinghy, whether or not he par­tic­u­lar­ly want­ed to.
After three days of liv­ing aboard the boat, McK­ay­la and Soot went for their first walk togeth­er. Or rather, they tried to go for their first walk.
"That first day on land, he didn't get off my lap at all. He thought about get­ting off onto the grass, but then turned around and sat right back down."
The hes­i­ta­tion didn't last long – not with so many inter­est­ing places to go.
"Now he doesn't like being car­ried," McK­ay­la says. "We walk through Fair­weath­er Park, and in front of Down­rig­gers, then we'll walk up through town or up the stairs, out and around the cour­t­house, and then back down to the har­bor. It's about a half mile, and dur­ing the sum­mer we'll do it three or four times a day."
Soot is hard to miss, part­ly because there aren't a huge num­ber of cats on leash­es in Fri­day Har­bor, but also because he's just plain huge. Even though he's only 11 months of age, Soot already weighs 20 pounds. McK­ay­la believes he'll top out some­where around 25 pounds.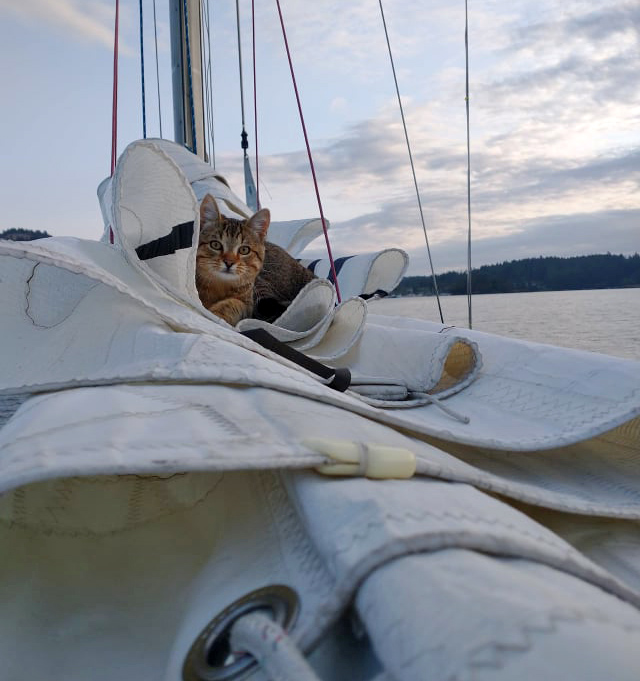 Even though he's young, Soot's adven­tures are already numer­ous. One of his most demand­ing trips took place last sum­mer after sail­ing over to Stu­art Island.
"He walked most of the way from Provost Har­bor all the way out to the school­house," McK­ay­la says. "It was around six miles roundtrip. I was amazed. We went slow, and I car­ried him some of the time so that he wouldn't hurt or strain him­self, but he walked a sur­pris­ing amount on that trip."
That's just a taste of what McK­ay­la and Soot might expe­ri­ence next.
"I'm a rock climber as well, and I hope to get him out to be a lit­tle crag kit­ty some­day. He doesn't like the back­pack very much, so I imag­ine doing short climbs where he can explore."
Until then, there's work to do.
McK­ay­la took a job at Grif­fin Bay Book­store at the end of last sum­mer. Dur­ing work­ing hours, Soot spent his time with McKayla's part­ner on the boat.
"They would take Soot for walks and keep him up dur­ing the day. But then they had to move back to Seat­tle, and all of a sud­den he was left with all of this time at home. When he gets bored, he just sleeps, so I would come home and he would be up all night, like, 'It's play­time, let's do things, you're home now!' So I didn't sleep for a lot of November."
Even­tu­al­ly McK­ay­la asked Lau­ra Nor­ris, the own­er of Grif­fin Bay, if Soot could start com­ing into work dur­ing the day. Lau­ra agreed, so in Jan­u­ary he became the lat­est chap­ter in the long his­to­ry of San Juan Island book­store cats.
"He gets free rein in the book­store – every­where but the bricks in the front," McK­ay­la explains. "He real­ly likes sit­ting in the back win­dow, because the sun shines in. And he likes sit­ting in the front win­dow, because he can watch peo­ple go by."
When asked what he enjoys most about his job, Soot refused to com­ment, choos­ing instead to dash up the stairs and into the back half of the store, where he pro­ceed­ed to lay in the mid­dle of a walk­way and roll around on his back.
Once there are more than about six or sev­en peo­ple in the store, Soot goes on a leash behind the counter, where he also has a cozy bed tucked into the bot­tom row of a shelf near the reg­is­ter. Oth­er­wise, he's free to spend his days wan­der­ing as he sees fit, inter­act­ing with cus­tomers when­ev­er the mood strikes.
"He real­ly likes observ­ing," McK­ay­la says. "He'll come up and say hel­lo to peo­ple and get a pet or two, and then he'll wan­der off and watch. A lot of time he'll sit among the book­shelves and watch peo­ple as they come around the corner.
"It's going great. He's nev­er had a bad inter­ac­tion with a per­son. His entire life, peo­ple have always been positive."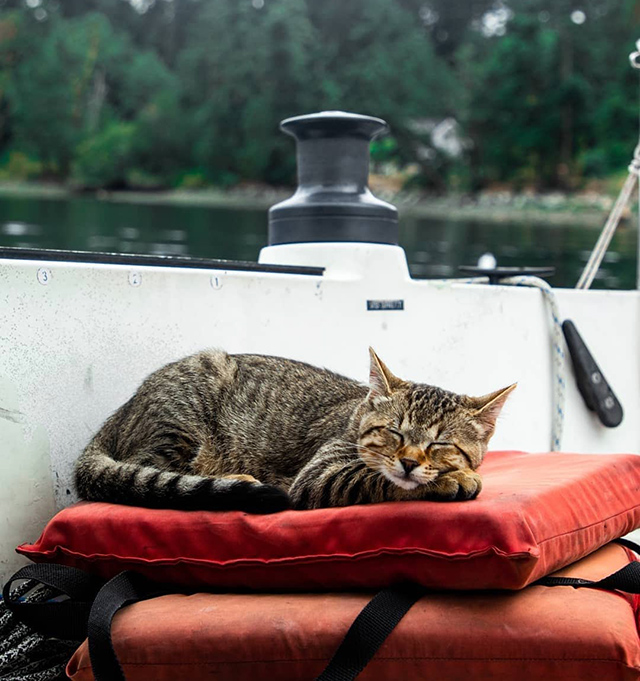 Soot doesn't roam the book­store every day McK­ay­la works. He typ­i­cal­ly gets Fri­days off, and some­times anoth­er day as well, to ensure that he's able to reg­u­lar­ly get the 16 hours of aver­age dai­ly sleep that an 11-month-old cat requires. The upcom­ing sum­mer sea­son will be his first, and it remains to be seen how his book­store expe­ri­ence might change as the size of the crowds inside Grif­fin Bay start to grow.
What­ev­er the world throws at him, Soot will find a way to adjust, as he has so many times before. If you hap­pen to see him on a walk around town or while wan­der­ing the aisles of the book­store, feel free to say hel­lo – just try not to feel too jeal­ous of his glam­orous Island life.
Pho­to cred­it: McK­ay­la Bower
You can support the San Juan Update by doing business with our loyal advertisers, and by making a one-time contribution or a recurring donation.