Tina's Place reopens, ready for the year ahead
Posted March 2, 2022 at 7:27 am by Jeff Arnim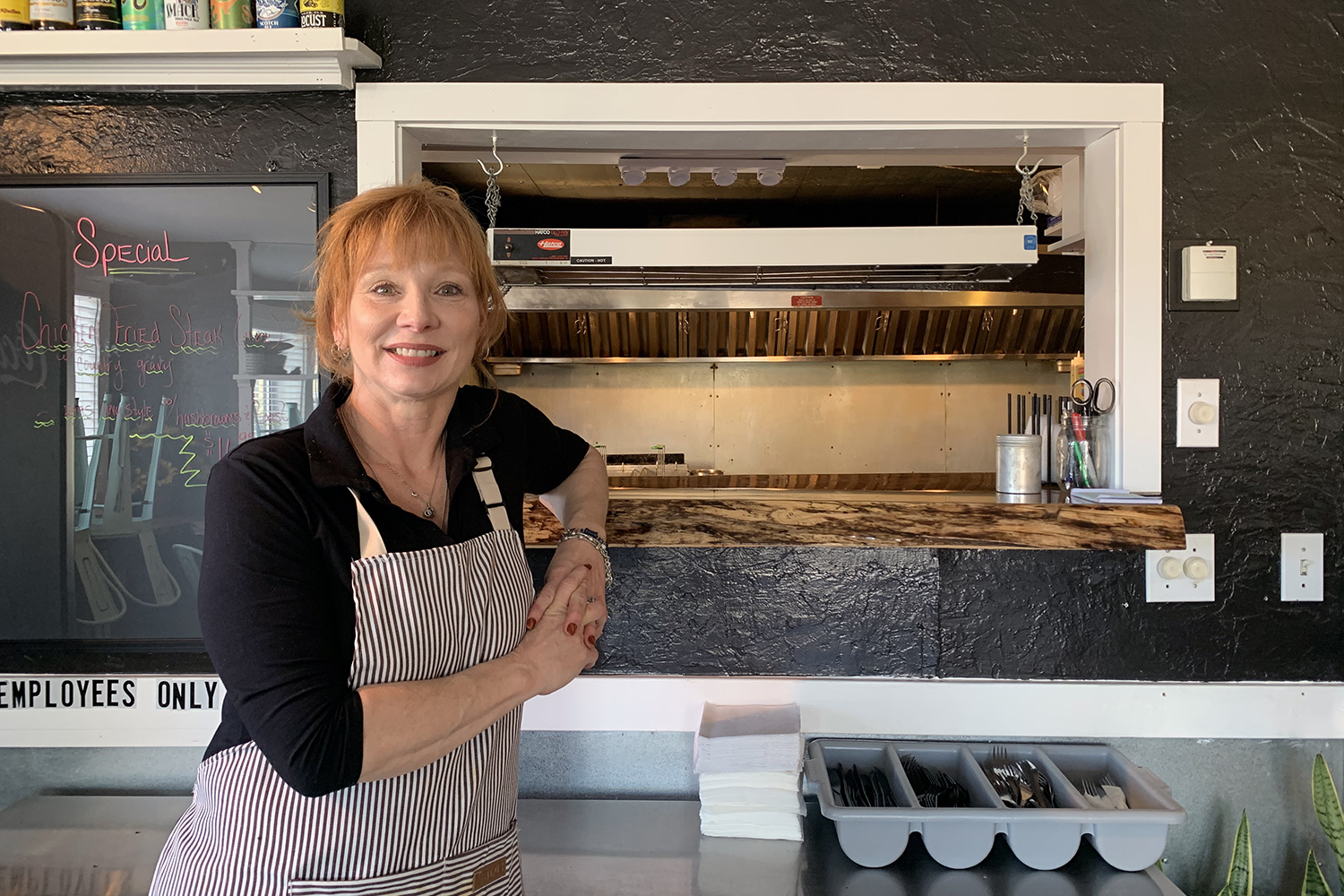 After three weeks away for a mid-win­ter vaca­tion, the crew at Tina's Place reopened their doors last week, rest­ed and ready to head into the first full busy sea­son in their new location.
The break was espe­cial­ly hard earned this year.
Eight months ago, in the mid­dle of the most demand­ing and com­pet­i­tive time of the year for Island restau­rants, own­er Tina Keane learned that the build­ing from which she had run Tina's Tacos since 2017 was for sale.
"With­in sev­en or eight days the build­ing sold," Tina explains. "So we were home­less. We were going out of busi­ness. I had 30 days [to find some­thing else]."
As luck would have it, some­thing else found her instead.
Not long after learn­ing that her build­ing had sold, Tina hap­pened to run into Stacey Brown, the long-time own­er of anoth­er local restau­rant, the Hun­gry Clam. In the course of their con­ver­sa­tion, she asked him when he planned to have his closed restau­rant up and run­ning again. To Tina's sur­prise, Stacey explained that he wasn't inter­est­ed in bring­ing the Hun­gry Clam back for anoth­er sea­son, but would instead leave it closed per­ma­nent­ly, open­ing up restau­rant space on one of the most high­ly traf­ficked cor­ners in Fri­day Harbor.
"It just felt like it was meant to be," she says.
It also meant a mon­u­men­tal task had been placed in front of Tina, her daugh­ter Tabatha, and her son Jacob, who were the restaurant's only year-round staff. They had to keep Tina's Tacos oper­at­ing nor­mal­ly, pre­pare the space that would even­tu­al­ly become Tina's Place, and then seam­less­ly tran­si­tion from one to the oth­er in less than a mon­th's time.
"We start­ed remod­el­ing this place while we were still open at the oth­er place," Tina remem­bers. "We would work there all day, then the kids and I and my mom – who flew in to help – would come here and work on this place in the evening.
"And we did it – in 27 days and 32 gal­lons of paint."
It's not often the case that a restau­rant mov­ing just six blocks expe­ri­ences a fun­da­men­tal change in clien­tele, but Fri­day Har­bor is not your aver­age town. Where Tina's Tacos was tucked on a dead-end side street off Blair Avenue, Tina's Place sits right above the fer­ry wait­ing lanes on the cor­ner of First Street and A Street. It's one of the first places peo­ple walk­ing off the fer­ry see as they head up East Street and one of the last places they pass as they pull into the wait­ing lanes to catch the boat back to the mainland.
"It's com­plete­ly dif­fer­ent," Tina says. "I absolute­ly loved the oth­er spot – and I get a lit­tle emo­tion­al talk­ing about it – because we real­ly catered to the locals. I love my locals. We would not have made it with­out them. I miss that feel­ing of being the local hang­out spot. I'd look out the kitchen win­dow and the kids would be run­ning around play­ing in the back yard. It was such a unique sit­u­a­tion and it was just real­ly lovely."
Locals are still a major part of the busi­ness at Tina's Place, she explains. But with so much foot and fer­ry traf­fic right out­side its front door, "This is a com­plete­ly dif­fer­ent beast."
That beast won't run at full speed for the next cou­ple of months, thanks to an unfor­tu­nate disc golf injury that has forced Jacob out of the kitchen. Until he returns, Tina's Place will be open Wednes­day through Sun­day, from 7 a.m. to 4 p.m. each day – except Sun­days, when they'll serve only break­fast and close at 11 a.m.
Tina aims to serve Islanders six days a week. She also wants to stay open until 7 p.m. because there are no Mex­i­can food options on the island in the evening. But as with so many local busi­ness­es, the plans for Tina's Place depend on find­ing extra staff ahead of the sum­mer sea­son – and keep­ing them all the way until its end.
"It real­ly depends on if the uni­verse wants to bring me the peo­ple to do it," she says. "But you know what? We will be fine. Either way, we'll fig­ure it out."
And either way, they'll con­tin­ue to occu­py a unique place among the restau­rants of San Juan Island.
"We're hap­py to be a place for work­er bee fam­i­lies, for mid­dle class fam­i­lies, who are some­what over­looked around here," Tabatha says. "I like that mom and dad and their three kids can come in here for food, for drinks, for the whole expe­ri­ence, and they're only pay­ing 60 or 70 bucks tops. There are not a lot of places like that on the island."
Tina agrees. "Our goal is just to pro­vide good home­made food, con­sis­tent every time, with a smile when you come in the door," she says. "We're hap­py you're here. We're hap­py you come into our restaurant."
You can support the San Juan Update by doing business with our loyal advertisers, and by making a one-time contribution or a recurring donation.