San Juan County fair reveals 2022 poster design, asks for your help
Posted April 11, 2022 at 9:36 am by San Juan Update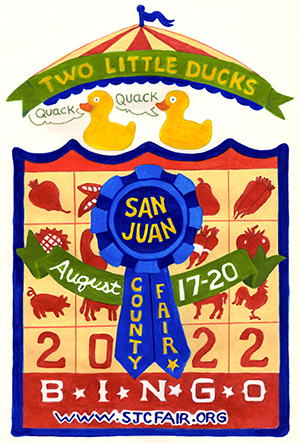 The Coun­ty Fair shares the design for this year's pro­mo­tion­al poster, along with a request for help.
It is offi­cial — the San Juan Coun­ty Fair is back, in per­son, August 17–20 at the San Juan Coun­ty Fair­grounds. This year's theme is "Two Lit­tle Ducks; Quack, Quack!" This theme is instant­ly rec­og­niz­able to any major bin­go play­er and cap­tures the agri­cul­tur­al her­itage of a fair event.
This year's poster art was cre­at­ed by Ros­alie Howarth of San Juan Island. Rosalie's inspired design com­bined bin­go, agri­cul­ture and the Fair, cap­tur­ing the essence of this year's theme.
The San Juan Coun­ty Fair has been held vir­tu­al­ly over the past two years, mak­ing this year full of unique chal­lenges to get back up and run­ning. Staff are work­ing hard to brush off the cob­webs and are remind­ed that the Fair takes a vil­lage to be suc­cess­ful, and it is a cel­e­bra­tion of our County's tal­ents and unique qual­i­ties. It is a stage and cel­e­bra­tion of the best of who we are.
There is no bet­ter time to get involved! Please check out the Fair's web­site to apply to be a ven­dor or per­form­ing artist, and to explore fundrais­ing and vol­un­teer oppor­tu­ni­ties. If you have ques­tions, email info@sjcfair.org.
You can support the San Juan Update by doing business with our loyal advertisers, and by making a one-time contribution or a recurring donation.